Philips Lighting India, Disney India launch LED lighting portfolio
By Bhawana Anand | Vjmedia Works | July 24, 2014
The lighting range has been created to inspire children's play and magical family moments as well as provide comfort to kids through Disney characters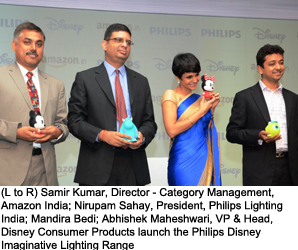 Philips Lighting India in partnership with Disney India has launched an LED lighting portfolio offering innovative, inspiring and playful lighting products for kids. The Philips Disney Imaginative lighting range has been created to inspire children's play and magical family moments as well as provide comfort to kids through Disney characters. The portfolio is designed for kids of ages 3 - 7 years and designed with safety in mind through each product's construction and the materials used.
The product portfolio includes products like SoftPals, LivingColors micro lamps, night light, Flash lights and Projector light. The range includes lights featuring light that comforts, such as, nightlights that emit a gentle glow, to products designed to help promote a regular sleep pattern for children by letting them know when it is time to get up. Additionally, the application has the storytelling capability to transform a child's bedroom into a more imaginative place for them to read, play and sleep. It represents the latest achievement in Philips' journey to transform the home lighting experience and make it digital.
Smart Philips LED lamps are robust, stay cool to the touch and are kind to little hands - with the added bonus that they do not have to be changed often due to their extremely long-life. Each light is also designed to ensure there are no small parts or sharp edges to worry about, and cables can be tidied away using Velcro cable binders.
The entire lighting range is exclusively available on Amazon India e-commerce platform as the lighting brand believes their set of TG is comfortable on buying online. As well as Amazon as a platform creates awareness about their listed products which leads to better engagement opportunity online.
Nirupam Sahay, President, Philips Lighting India, commented, "The blend of Philips' expertise in lighting and Disney's beloved characters will transform kids' rooms to a more imaginative place for them to learn, play and sleep. The e-commerce tie-up with Amazon will help us in making these digitally interactive lighting solutions easily accessible to our target consumer, who is online most of the time and likes to shop without hassle."
"This product range is a perfect example of how Disney storytelling can extend into children's bedrooms through an innovative and compelling product offering. We are thrilled to work with Philips to help create comforting reading and bedtime environments for families," added Abhishek Maheshwari, Vice President and Head, Disney Consumer Products.
"The launch of Philips Disney Imaginative Lighting range exclusively on www.amazon.in is in line with our vision of enabling our customers in India to find, discover and buy anything that they desire online and provide them a unique, delightful and trustworthy shopping experience. This exclusive partnership also serves as a testimony of our commitment to offer our customers' products of superior design at exceptional prices," said Samir Kumar, Director Category Management, Amazon India.