Plug & Play @ Retail
By Satarupa Chakraborty | May 23, 2018
While plug-and-play store concepts are yet to find ground in hardcore retail, it is gaining momentum in pop-up stores and other branding activities. The need of the hour is to set up stores more quickly as well as more efficiently…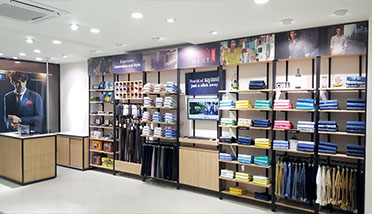 When ex-Amazon manager Aaron Holmes, once a key player in the brick-and-mortar business of Amazon Go and Amazon Books, saw the time and efforts associated with setting up stores, he decided to float his own start-up, Blokable, which produces lego-like, cubeshaped modular units that can build housing projects, retail stores and even an entire mall. Designed to be "plug-and-play", these units are outfitted with electrical and plumbing systems as well as appliances and fixtures.
Back in India, talking about retail fit-out, the need of the hour is to set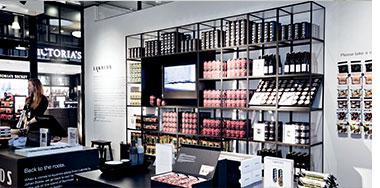 up stores more quickly as well as more efficiently.
Fast fit out
If we look at store fit-out trends in the country, we must look at the expansion mode of brands and retailers. The trends are rather juxtaposed: the number of stores is growing but the space of each store is shrinking; mall inventories are growing while high street locations are still buzzing; organized retail is reaching hinterlands while unorganized retail is adopting equally premium fit-outs; large flagship stores and experience centres are helping in building brand value while sales growth are often being expedited by formats like shop-in-shops, pop-up stores, branding outposts in mall premises etc. Fast fit-out today is a necessity without losing the efficiency.
Delhi-based fixture manufacturing company Shark Shopfits has two ranges in plug-and-play stores – Grid and SharkBox. These self-sustainable and cost-effective store models are designed and developed keeping in mind reusability. Apart from pop-up retail channels, these fit-outs are currently being used for visibility opportunities like sporting events, music festivals, new product launches and building other experiences.
As fit-out vendors are warming up to this idea, retail major Raymond has recently introduced its mini store formats, The Raymond Store (TRS), which uses a complete standardized plug-and-play store formats, offered by the retailer themselves. Taking a cookie cutter approach for taking the retail expansion to tier-III and tier-IV towns, the shop formats are basically an odd-shaped lego-block design that is fully customizable.
Logistics simplified
As retail stores and branding activities are reaching across geographies, selfinstallations are becoming indispensable. Delhi-based firm Amitoje India recently developed a range of FSUs that can be packed in simple corrugated boxes and takes less than a minute to install without the need of any tool. The range comes with opportunities like quick change of brand communication upon change of season, new design or on arrival of new product ranges etc.
Working on the same concept, signage manufacturer Illuminati has introduced Addcube, a patented range of FSUs that allow to customize product information placement based on various retail requirements.
The trend in retail fixtures is going through major changes with metal being popular with advent of several new finishes. While most of the fixture manufacturers are investing in infrastructures to embrace these changes, some of them are working towards curtailing the effort of installation. Delhi-based fixture manufacturing company Espaces has developed a range of fixtures that will allow slotted pillars to form into shelves and hanging fixtures without any drill work. The range can be used to achieve any desired design of fixtures like hanging ones or display shelves.
Consolidated concepts
There has been a surge of plug-and-play models especially in systems that are compound and consolidated. Fixtures and signages are two categories where plugand-play models are being popularized. Mumbai-based Insync Shopfittings introduced their Fit-N-Light range last year to integrate fixtures and lighting, which was further integrated with signages and digital interfaces later. Interestingly apart from some of the noted organized brands, some regional retailers like Stori, Poetry & Grammar etc are already using the range. Similarly, being an active part of retail soft signage tide, Mumbai-based signage manufacturing company Signext developed a signage system that is integrated with acrylic letters. These lightboxes, developed and finished with software and hardware parts, can be installed by users themselves.
Tech integration
Though India's retail size is slated to grow in leaps and bounds, a brand no longer believes in reckless expansion. Although we are seeing huge numbers of stores in the pipeline, the size, locations and consumer behaviour are mapped through a number of data analytics. Offering such analytics support, Bangalore-based Jossbox developed even battery-operated device, which is completely plug-andplay without any need of wiring process. Jossbox's footfall mapping ranges has been already used by Mango stores after Myntra took over and digitized the brickand-mortar model of the brand.
Apart from hardcore infometrics and consumer mapping tech tools, retail lighting is and will be playing an important role in this. Mumbai-based Focus Lighting & Fixtures Limited – Brand plus has introduced a Bluetooth-enabled system that can control 5000-7000 lighting fixtures through a single device. These systems, operating remotely, can collate data on functionality of each fixture to consumer mapping. Working in the same line, Delhi-based Ankur Lighting has brought automation range which works as IoT device remotely and can be added to any prevailing lighting system.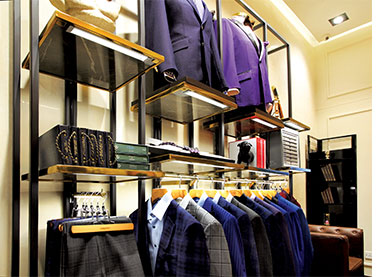 Plug, play and show
While plug-and-play store concepts are yet to find ground in hardcore retail, it is gaining momentum in pop-up stores and other branding activities. However, as expansion scalability is ever growing for every brand and retailer, setting up stores with modular fit-outs is expected to be more viable as these systems are durable, hassle-free, movable and customizable. On the other hand, tech-integration in fixtures and lighting are being popular as it brings down the installation and operational hassles of even a large format store. Also, as Indian retail is readying for true omni-channel representations, in-store technology is expected to grow even further thus prompting other fit out elements to be tech-friendly and complete plug-and-play models.