POPAI Asia Conference to discuss shopper marketing and insights
By VJ Media Bureau | Vjmedia Works | October 04, 2013
The two day conference to be held in Singapore at the Singapore Marina Bay Sands on November 18 and 19, 2013 will discuss key trends, new insights and success stories from the global leaders of retailing and shopper marketing.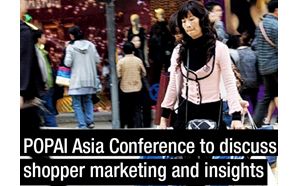 POPAI Global is organizing a two day event in Singapore which will bring together the best brains in the industry to talk on the key trends and insights and the challenges retailers and brands face with a focus on regional execution.
The POPAI Asia Conference features speakers from leading brands and retailers including P& G, Duracell, Saatchi & Saatchi X, Walmart and many more. The conference on Day I will cover topics such as Brand Strategies across Continents, New Shopper Insights & Behavior Understanding, Shopper Intent vs. Actual Behavior, Leverage All Channels in Reaching Shoppers, Shopper Insights: Making Them Immediately Actionable - Power Lunch, Marketing to Today's Shoppers, Evolving Intellectual Property Rights and Protections, What Works in Asia.
On Day 2, the topics will cover on Successful Retail Strategies Around the Globe, Retail and Brand Strategies Within Asia, Brand Development within Asia, The Future of Shopper Marketing in Asia, How to Close the Loop for In-store Success, Where Do We Go From Here?
This is the first opportunity that FMCG Brands, Retailers and Agencies operating in ASIA have had to hear'first hand' from world leading professionals on the importance of Shopper Marketing - the theory, the process and, importantly the execution'In-Store' to gain retail success whilst managing realistic ROI targets. Being presented by POPAI, the leading global industry voice for 75 years, this is indeed a must-attend event .