PrettySecrets goes in for exclusive association with Myntra
By VJ Media Bureau | July 13, 2018
Myntra and PrettySecrets' collaborated machine learning tools will help strengthen the customer analytics capabilities and increase sell through rates for PrettySecrets on Myntra's platform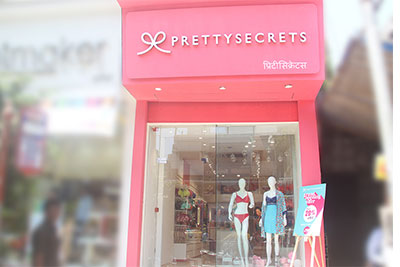 PrettySecrets, a fast growing lingerie brand in India, is now going to be available across Myntra, Flipkart & Jabong only. The brand has tied up with Myntra to be a part of Myntra's Brand Accelerator Program.
PrettySecrets has seen a month on month growth of over 80% on Myntra as compared to last year's EORS on Myntra. This year PrettySecrets has grown by 110%. It has done a sale worth INR 4 crore in the month of June on Myntra alone.
PrettySecrets' growth chart over the past one year has had a very positive influence over Myntra.
The Myntra Accelerator Program has helped the brand in getting increased visibility through complimentary access to Myntra's visibility tools such as banners and brand days etc. which is promoted to over 50 million unique customers. Myntra and PrettySecrets' collaborated machine learning tools will help strengthen the customer analytics capabilities and increase sell through rates for PrettySecrets on Myntra's platform which will help build PrettySecrets' brand positioning.
Speaking on the association, Mr Karan Behal, CEO & Founder, PrettySecrets said, "The overall online Marketplace distribution channel for PrettySecrets has grown 70% over last year (2017) and has achieved a growth rate of 30 Cr which is 1/3rd of the overall brand revenue. This association has already catapulted the brand into the offline space with higher recognition and growth. We hope this association helps in reaching higher heights."
Ananya Tripathi, Head Category Business and Chief Strategy Officer, Myntra said, "The vision of the Brand Accelerator program at Myntra & Jabong is to help shape the journey of emerging Indian fashion brands with unique customer proposition and take them to the top 10 national spot in 3 years. The success and growth trajectory of 'Pretty Secrets', at over 80% month-on-month within 3 months, goes on to show the kind of impetus the program offers to brands. We see great potential in the women's innerwear category in the coming years and will continue to support the brand with deeper consumer insights & marketing support through technology."