Regional fashion chains hold their ground
By Chaitanya Muppala | Vjmedia Works | April 07, 2014
Despite the presence of national department stores like Central and Shoppers Stop in their markets, local insights and cost advantage have kept these relevant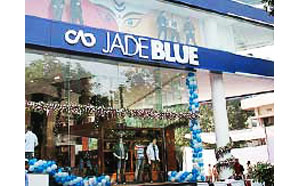 Being regional and smaller in size have not kept lifestyle retail chains from giving national department stores a run for their money, albeit in their local markets.
Mostly, such chains are based in the north and west, in Uttar Pradesh, Punjab, Gujarat and Rajasthan, and bank on customer loyalty for their claim to fame.
Kapsons, the Mohali-based retailer, which retails global brands such as Nautica, Tommy Hilfiger, Gant, FCUK, Gas, Benetton and Calvin Klein Jeans, recorded same-store sales (SSS) growth of six-eight per cent in the December quarter of 2013-14. It made a turnover of Rs 290 crore and a net profit of Rs 10.5 crore. SSS growth denotes the increase in sales at stores in operation for a year or more.

Kapsons has six formats, including a kidswear chain, Kapkids, youthwear chain Krome and online store Kapsonsonline.

Ahmedabad-based Jade Blue, known for its 'Modi kurtas', worn by Bharatiya Janata Party's prime ministerial candidate Narendra Modi, saw an SSS growth of 14 per cent in December 2014. It did a net profit of Rs 4.2 crore on sales of Rs 147.8 crore in 2012-13 and expects Rs 180 crore in 2013-14, 22 per cent more than the previous year.

Jade Blue, which holds fashion shows to announce the opening of bigger stores, has 18 stores in Gujarat, Andhra Pradesh, and Maharashtra. It also has a full-fledged e-commerce site, which offers free shipping.

"Jade Blue has a strong tailoring section, so it can sell other brands to those who come for its service," says Deval Shah, project head, Reliance Brands which supplies some of its brands to Jade Blue and Kohli Brothers.

Besides Modi, Jade Blue's clients include Adani Group's Gautam Adani, Nirma's Karsan Patel, Zydus Cadila's Pankaj Patel and hospitality czar Narendra Somani of Bhagwati Group. Lucknow-based fashion chain Kohli Brothers runs two multi-brand outlets and four exclusive brand outlets in Uttar Pradesh, posting 13-15 per cent SSS growth.

Operating on a much larger scale, Raheja-owned national department store chain Shoppers Stop posted an SSS growth of 5.5 per cent in the December quarter of 2013-14. It posted a net profit of Rs 39.65 crore on net sales of Rs 2,227 crore in 2012-13. Kishore Biyani's Future Lifestyle Fashions, which runs chains such as Centraland Brand Factory, posted SSS growth of 7.3 per cent in Q3 of 2013-14 and 15.2 per cent in Q2. Future Lifestyle Fashion's 2012-13 numbers are not available as it was de-merged and listed last year.

"Chains such as Shoppers Stop compete with the local ones but they are hard-pressed to offer something different," says Harminder Sahni, managing director of Wazir Advisors. Adds Sahni: "Whereas, cost overheads are managed well compared by the smaller chains, larger chains have to spend a lot on rent and manpower."

Jade Blue runs 18 stores in Gujarat, Andra Pradesh and Madhya Pradesh and is expanding in these states. Kapsons is taking its kidswear chain to cities such as Mumbai, Surat. However, Kapsons Managing Director Darpan Kapoor agrees that the chains remain successful only regionally. "The moment we take it national, cost of our operations goes up and efficiencies come down. That's why we are not taking our brand Kapsons national. Our kidswear chain has stores of 3,000 to 5,000 sq-ft, which do not require high level of efficiencies," he adds. Sahni of Wazir Advisors says the moment they become national, they give up advantages like customer understanding and cost advantages.

Kapoor of Kapsons says the chain has the largest assortment of international brands - around 30 - in Punjab, higher than competition.

But Shoppers Stop's Managing Director Givind Shrikhande says their stores have over 100 international brands. Shrikhande says: "We are a 22-year-old chain but we became pan-India in just 10 years. But the local players are 25-year-old in their respective regions."

"Jade Blue has customers in a certain age bracket for its tailoring services. Besides, it has also added a number of brands in the last couple of years," he says.

Adds Shah of Reliance Brands: "Kohli Brothers understands what kind of jeans will sell in Lucknow better than national chains."

Sandeep Kohli, owner of Kohli Brothers' recalls that when big retailers opened in Lucknow, it lost business as the customers shifted. However, after improving the look of its stores and organising events to understand customers better, "quite a few came back to us," he says.

Keeping suppliers happy
Suppliers/distributors also see these chains as a major trade channel. About 10 per cent of sales of Arvind Brands, a unit of Arvind, which has brands such as Arrow, Flying Machine, GANT, come from regional chains such as Kohli Brothers. Overall, 40 per cent of Arvind Brands sales come from organised retail. "We have maximum number of counters as well as selling points in these chains," says Suresh J, managing director and chief executive officer, Arvind Brands.

Of 34 shop-in-shops of Italian jeanswear brand GAS (with which Reliance Brands has a franchisee agreement), 20 are in Jade Blue and another local chain, Jai Hind. US-based footwear and apparel brand Timberland has six shop-in-shops are in Kapsons.

However, Shah from Reliance says suppliers define the parameters for the merchandise mix for such retailers, so that the brands are represented in the right manner.