Reliance Retail scripts mega cash-&-carry plan
By Chaitanya Muppala | December 09, 2016
Wants to add 300 stores over 3 years, a sixfold rise, for around Rs 5,000 crore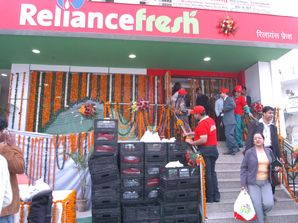 Mukesh Ambani's Reliance Retail plans to add six times the current number of its cash and carry (wholesaling) stores over the next three years.

The company is planning to set up 300 of these in another three years, to take on the likes of Walmart, Metro and others, said a source. Experts feel with the cost of fitouts, land and construction, they'd need to spend about Rs 4,000 a square ft or Rs 4,800 crore for 300 stores.

This is the second such big expansion by Reliance Retail. It had added hundreds of Reliance Digital stores which also acted as sales and service points for its Jio telecom service.

It has 45 cash & carry stores under the Reliance Market brand at present, the average size being 40,000 sq ft. It opened the first Reliance Market in 2011 and has expanded to 37 cities; it claims about 2.5 million members.

"It sees a huge opportunity in the business, given the set-up of kiranas (traditional stores), hotels, and restaurants. They have established a base and will build on that," said the source.

An e-mail to the company's spokesperson did not elicit a response.

Experts say the plan is feasible. "There are thousands of small cities which have high propensity to spend but not enough avenues to do so. FMCG (fast moving consumer goods) companies do not have the wherewithal to take their products everywhere. If there is a network of cash & carry and wholesale stores, it is good," said K Radhakrishnan, chief executive, Grocermax, an online start-up for food and groceries.

However, he also cautions that such models should be cost-effective and profitable."They (wholesale stores) should sell large varieties of unbranded grocery, apparel, footwear which carry higher margins. Just by selling FMCG, you can't be profitable," added Radhakrishnan.

Manoj Motta, chief executive and president at Banyan Resources, said 300 stores was not an "ambitious target for either Reliance or the market. If somebody like Reliance wants to do 300 stores, then the opportunity is for 2,000 stores," he said.

Motta notes the country is among the top producers of fruits and vegetables, pulses and so on but doesn't have the proper supply chain to carry these from farmers to stores even now.

Reliance's plans come when other cash & carry players are aggressively expanding. Recently, Kishore Biyani's Future Consumer Enterprise forged a joint venture with the UK's Booker group for cash and carry stores in this country. They plan to open 60-70 stores in three years, to sell merchandise to kirana stores, hotels, and catering entities. German company Metro AG is looking at doubling its wholesale stores in the country to 50 by 2020. Walmart India has opened a store in Agra after a long gap, to take its tally to 21.

With Walmart, Metro, Bookers, and Reliance operating 92 cash & carry stores between them, 2.6% of traditional trade in all consumer product goods moves through organised wholesale. The Rs 6,800-crore market has been growing at 13% annually, faster than modern trade, albeit on a lower base, Nielsen, the global data, information and measurement company, said in an April 2016 report.

"The cash & carry format has a critical role in the multi-layered distribution system predominant in India. It helps manufacturers supplement their own direct reach for better access in traditional retail, without relying on the unorganised and fragmented indirect distribution system," said Vijay Udasi, senior vice-president at Nielsen India in the report. "Retailers can also benefit from economies of scale, as well as a wider assortment to pick from."