Retail Leadership Summit 2017 focuses on capturing the hyper-connected consumer
By Nabamita Chatterjee | Vjmedia Works | February 17, 2017
RLS 2017 had workshops and interesting panel discussions with regards to the ground reality in the retail space with a futuristic vision.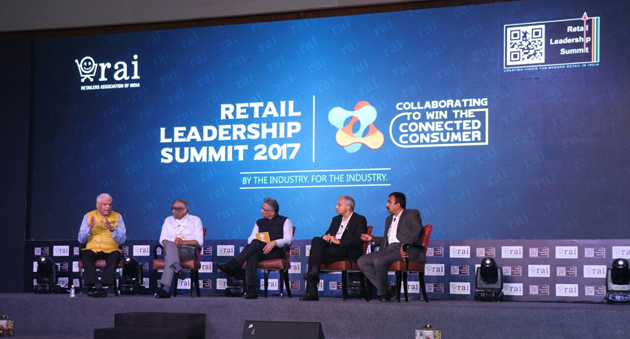 The Retailers Association of India (RAI), a unified voice of retailers in India, commenced its annual flagship knowledge-sharing platform 'Retail Leadership Summit (RLS)' at The Renaissance, Mumbai on February 16, revolving around the theme 'COLLABORATING TO WIN THE CONNECTED CONSUMER'.The Summit focused on how to win over the tech-savvy, 24/7 connected consumer, as it requires the retailer to have a transparent agile supply chain, omni-channel capabilities, a digital-ready workforce and mobile-first strategy, in addition to other new-age wherewithal.

The Summit was opened by B.S. Nagesh, Chairman – RAI; Founder - TRRAIN (Trust for Retailers and Retail Associates) where he underscored the need for collaboration.

Speaking about the Summit, Kumar Rajagopalan, CEO, Retailers Association of India, said, "Today, retailing is about delighting customers. This cannot be done without taking huge steps to ensure that their needs are being fulfilled. However, need fulfilment is not the capacity of just one retailer. It can only be done by collaborating across various kinds of entities, including other retailers, to ensure that customers get solutions they need, when they need them. Retail Leadership Summit (RLS) provided a platform to retailers and service providers to retail in one place to forge new relationships and deliberate upon methods to delight these connected consumers."

Vijay Shekhar Sharma, Founder & CEO, PAYTM; Kishore Biyani, Group CEO, Future Group and Hari Menon, Co - Founder & CEO, BigBasket.com addressed the gathering with their inspiring insights. The Summit covered various topics relevant to retail including: Value and Valuation in Retail, Turning Customers into Brand Evangelists, The Secret to Delivering a Seamless experience, Trends Impacting Sustainable Retailing Practices, and Going Glocal to Woo the Local Consumer among others.

The Summit also provided the platform for releasing reports created by the country's leading consultancies in collaboration with RAI. These include: RAI - Deloitte: Making Retail a preferred employment choice in the digital world, RAI - KPMG: Capitalising on green governance in retail supply chain, RAI - A.T. Kearney: Agile and collaborative retail value chain to win over the connected consumer, RAI - Knight Frank: Think India Think retail –Omni channel retailing, RAI - BCG: Decoding the digital consumer.

With an aim to increase the quality of modern retail in India through infusion of fresh ideas and new players, RAI added a new platform to the Summit – Retail Startup Awards. Presented by at RLS was Retail Startup Awards which sought to recognise new entrants in the retail and consumption space. RLS 2017 also served as the backdrop for the launch of RAI – GlobalLinker, a feature-packed business networking platform for small and medium retailers. To develop the platform, RAI has collaborated with DigiVation Digital Solutions, a digital solutions enterprise based in Mumbai and makers of the GlobalLinker platform. "RAI's endeavor is to help modernize retail in India. In order to stay relevant, retailers have to collaborate with each other and also use various service providers to be continuously relevant. The RAI-GlobalLinker platform is a digital enabler for retailers and service providers to retail, to connect, converse and collaborate," said Kumar Rajagopalan, CEO, RAI.

"With all these elements together, RAI-GlobalLinker promises to be a game-changer for retailing in India. It empowers RAI take its work to many, many more people. Five or six years down the line, with all the programmes on RAI-GlolalLinker such as the e-commerce, certification, Shop with Confidence and staffing service running, the quality of retailing in India and customer experience would have gone up significantly," said Sameer Vakil, Cofounder - DigiVation Digital Solutions Pvt Ltd & GlobalLinker.