Retailers expect 10-15% more apparel sales this festive season
September 26, 2014
Festive season in Kolkata has already started and the sentiment is looking very positive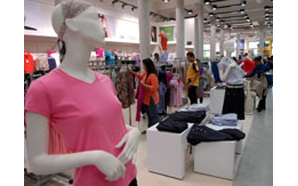 Apparel sales this festive season is expected to be up by 10-15 per cent over last year's, with improved consumer sentiment.
Retailers hope to see higher sales with a stable government at the Centre and stock markets doing well. The festive season in Kolkata has started and the sentiment is looking very positive, they say.
"There are various positive factors which play this year, due to which apparel sales are expected to be higher than 20 per cent," said Kishore Biyani, chief executive of Future Group, which houses apparel outlets such as Central.
"I expect apparel sales this festive to be higher by 10-15 per cent than the previous one, as our customers have benefited from the markets soaring to a new high," said Govind Shirkhande, managing director of Shoppers Stop.
Apparel sales were on the lower side for the past couple of quarters. Cost inflation in apparel wasn't so steep this year and so, therefore, was price inflation, said Shrikhande.
Rahul Mehta, president of The Clothing Manufacturers Association of India, has also said," This festive season, I expect to see growth of 10-15 per cent over last year."