Retailers search for clarity in govt's policy confusion
By Jim Hollen | Vjmedia Works | July 30, 2014
While the government may be looking at easing the rules for single-brand retail, multi-brand and online continue to be caught in a logjam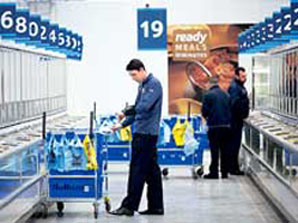 When Swiss watchmaker Swatch, with estimated annual sales of $10 billion, filed an application with the Foreign Investment Promotion Board to enter India last week, many observers sensed change in the air. Swatch (the company owns 18 brands such as Breguet, Harry Winston, Blancpain, Omega, Longines, Rado and Tissot) wants to set up a fully-owned subsidiary that will operate its stores in the country. In single-brand retail, a category meant to describe stores that sell products of only one group or company - up to 100 per cent foreign ownership is allowed, provided the entity sources at least 30 per cent of its raw materials from India (preferably from small and medium sized units).
There was no way Swatch could comply with the 30 per cent rule, some policy watchers said. It must have applied, analysts speculated, only after Swatch was assured informally by the government that the norm would be diluted. After all, Swiss watchmakers are renowned for their craftsmanship and the authenticity of the materials they use. The "Swiss Made" logo on the dial of their watches is not easy to come by. How then could it use Indian components for its watches? In its proposal, Swatch has told the commerce and industry ministry that it intends to buy melee diamonds, or small stones, besides leather, buckles and packaging material from India to meet the 30 per cent norm. Still, the concern of international brands over the clause is well known. And, when it comes to specialised products like watches and luxury brands, the problem of compulsory sourcing becomes magnified.
Perhaps to ensure a steady flow of foreign investment into the country, the Narendra Modi government is learnt to be thinking of diluting the local-sourcing norms. The relaxation may involve doing away with the contentious clause altogether. India attracted around Rs 300 crore from foreign brands in the last two years or so in this segment.
If this policy change were to be made, Swatch, which is learnt to have proposed an investment of $10 million to set up around 30 stores in four to five years, certainly won't be the lone beneficiary. Major international luxury and super-luxury brands, ranging from designer clothes to jewellery and lifestyle, are believed to be waiting to enter India. They include names such as Prada, Gucci, LVMH Moet Hennessy, Swarovski (which applied for cash-and-carry and single-brand retail and hit a policy hurdle recently) and numerous others who are watching how the policy plays out.
Many of these brands, including Swatch, are currently present in India, but through franchise arrangements, dealer networks or joint-venture partnerships. As the number of affluent Indians grows, the stakes are getting bigger. "Once you enter on your own, you have more control over quality, pricing and customer experience," explains KPMG India Partner (transaction services) Mohit Bahl. This allows the companies to roll out expansion plans quickly and establish their brand equity more aggressively, he says in the context of Swatch's application.
A sore point
The local-sourcing condition has been a hurdle for international players across the spectrum: both in single-brand and multi-brand retail. However, the single-brand policy, where foreign ownership was raised from 51 to 100 per cent in 2011, has been tinkered with in the past. Two years ago, the United Progressive Alliance (UPA) government had diluted the 30 per cent local-sourcing norm to facilitate the entry of IKEA, the Swedish furniture and home decor major. In June 2012, when IKEA formally proposed to invest euro 1.5 billion in India, it told the government that complying with the condition on local sourcing was not possible. At that point, the policy mandated 30 per cent sourcing exclusively from Indian micro-, small- and medium enterprises, or MSMEs. Later that year, the government tweaked the norm, making the 30 per cent sourcing mandatory from India, preferably from MSMEs.
The word "preferably" came as a balm for foreign retailers such as IKEA. A few months later another Swedish company, fashion major H&M, started preparing its India roadmap, reconciled - but not fully satisfied - with the partial dilution of the sourcing clause. The Modi government, with its promises and assurances for foreign investors across sectors, wants to go easy on the clause, says a source. The government is of the view that rules should be relaxed where possible. And single-brand retail, the only section in retail trade where the government can woo investors, does not pose any political threat.
It is in multi-brand retail, however, that the Modi government finds itself in a jam - at least for now. It has not reversed the UPA government's policy on 51 per cent foreign ownership in multi-brand retail, nor has it said international players are welcome in this category. The policy is in limbo, forcing retail players to make their choices in a mixed-up regulatory environment.
Carrefour of France, the second largest retailer in the world after Walmart, for instance, recently announced its exit from India. Primarily a supermarket (read multi-brand) chain, Carrefour had set up five cash-and-carry stores in the country as a stepping stone to full operations. Along with its internal issues, Carrefour failed to firm up an Indian partner for its multi-brand foray due to policy hurdles. American retailer Walmart too parted ways with its cash-and-carry partner Bharti over policy issues, among other things. Walmart, which has been waiting to start multi-brand venture in India for years, is now considering expansion of its cash-and-carry business instead. UK's Tesco is the only foreign player to have taken a chance in multi-brand, having applied in equal partnership with Tata group's Trent to invest $100 million in stores across Karnataka and Maharashtra - both Congress-ruled states and friendly to the multi-brand retail policy.
The limits to investment
Policies for cash-and-carry or wholesale retailers permit 100 per cent FDI, while multi-brand retail was opened up to 51 per cent foreign investment only in 2012, that too with several conditions, including mandatory 30 per cent sourcing from Indian MSMEs. In addition, the state government has a say in allowing a foreign multi-brand company to open stores in a particular location.
While the current government may not reverse the policy for a company like Tesco, whose proposal has already been cleared by the government, the real test will be when a foreign player makes a fresh application. That will clarify the Modi government's stand on FDI in multi-brand retail, something that the Bharatiya Janata Party is opposed to. The party claims FDI in multi-brand retail would result in large-scale job losses for Indian traders, considered electoral supporters of the party.
That's not all. Policy confusion has spilled over to e-commerce too, an integral part of the retail business. For instance, while foreign investment in online retail is not otherwise allowed, FDI in e-commerce for manufacturing companies has been permitted through the automatic route.
The country needs a bureaucracy that understands complex issues across sectors to come out of this policy confusion, says Arvind Singhal, chairman, Technopak Advisors, a leading consultancy in retail. "Whether it's power, road, trade, retail or aviation, the subjects have become more complex over the years. To handle all these, we need bureaucrats with expertise who can advise the ministers better," says Singhal.
But importantly, even beyond that, it is the political masters who have to take the final policy call.