Rheson by Rhea & Sonam Kapoor to be available on Amazon.in
By Nabamita Chatterjee | November 21, 2017
Rheson will be listed on Shoppers Stop's exclusive flagship store on Amazon.in, as Rheson will make its debut on Amazon.in with five main themes – Inspiration from the Nostalgic 90s, Mogra, Relaxistan, Emoji and the Mithai collections. 
Rhea & Sonam Kapoor, the Kapoor sisters decided to build a high street fashion brand that embodies their style sensibilities. After a mega-successful debut at Shoppers Stop, Rheson announced that it will make a fashionable entry in the ecommerce marketplace arena through Shoppers Stop's exclusive flagship store on Amazon.in. In addition to being listed on Amazon.in, Rheson continues to be available on shoppersstop.com, the Shoppers Stop mobile app and Shoppers Stop stores across the country – making the high fashion brand extremely easy to

access across various channels.

Rhea Kapoor said, "We are so stoked by the runaway success of Rheson. Sonam and I wanted to create a brand keeping the Indian girl and her sensibilities in mind. So, it's really heartening to see that girls from all over the country have taken so

strongly to Rheson. We are now super excited to launch Rheson on Amazon.in and take the brand to the next level. With Shoppers Stop's tremendous platform and Amazon.in's extensive reach, we are confident that Rheson is going to springboard to greater heights."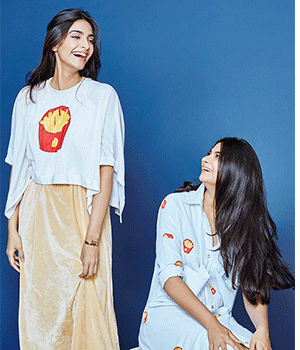 Sonam Kapoor adds, "It is surreal to see how our little dream has come to life – and on such a large canvas at that! Shoppers Stop has been a true partner in every sense. And we are now thrilled to extend this collaboration by partnering with Amazon.in. We believe that with Amazon.in's wide reach and scale, Rheson can reach every nook and cranny; giving young girls and women easy access to affordable glamour. From the very beginning, we were clear that we wanted Rheson to be every girl's best friend. And with the support of Shoppers Stop and by extension Amazon.in, we know that there's #NoRheson we can't achieve that!"

Govind Shrikhande, Customer Care Associate and Managing Director, Shoppers Stop Ltd. said, "Rheson has resonated strongly with our customers across Shoppers Stop stores and our online store. Given Rheson's early success and potential customer demand across the country, we believe it is an opportune time to elevate the brand's reach. As part of our commercial agreement with Amazon.in, Rheson is one of our first exclusive brands that will be listed on Shoppers Stop's exclusive flagship store on Amazon.in. We are confident that this arrangement will give significant boost to Rheson's growth story."

Commenting on the launch, Arun Sirdeshmukh, Head, Amazon Fashion said, "Taking our commercial partnership with SSL forward, we are thrilled to launch Rheson, one of the most successful brands at Shoppers Stop, on Amazon.in. Drawing upon each other's strengths to serve the evolving customer base in India, this launch further extends Amazon Fashion's leadership on selection and offer customers an instant and easy access across the country. We will continue to introduce new fashion products and brands from their wide portfolio and enable Shoppers Stop to access Amazon.in's nationwide customer base and expand reach in newer geographies".