RMAI to organise fireside-chat focused on Evolution of Rural Marketing
By Retail4Growth Bureau | April 23, 2022
The webinar is part of an ongoing webinar-series organised by RMAI on the Decade of Change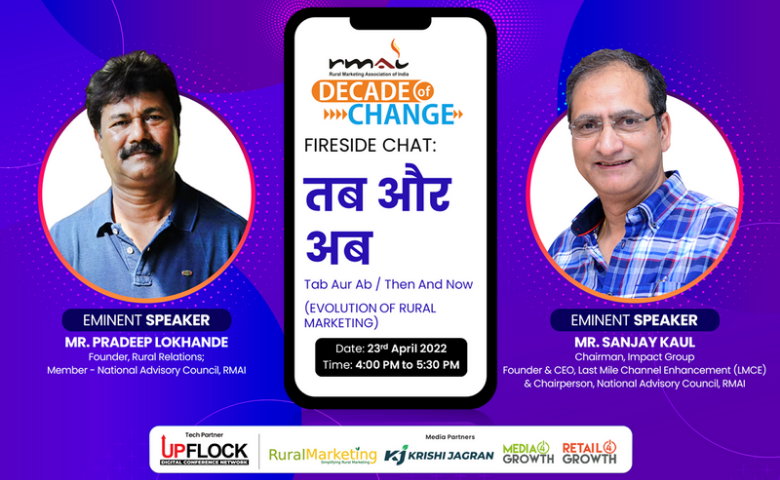 A lot haschanged in the rural domain during the past decade - From consumer behaviour and buying patterns to how the marketing efforts have steered into the direction of rural by the leading brands. To put spotlight over the changes and how rural marketing has evolved over the decade, Rural Marketing Association of India (RMAI) is going to organise a 'fireside chat' focused on Evolution of Rural Marketing. The talk will focus on how rural markets have changed over the years, how consumer mindset has changed, and in what direction the rural communication is heading in.
The chat will take place between Sanjay Kaul, Chairman, Impact Group of Companies; Founder & CEO, Last Mile Channel Enhancement (LMCE); & Chairperson - National Advisory Council, RMAI & Pradeep Lokhande, Founder, Rural Relations; & Member - National Advisory Board, RMAI, who is also known as Postcard Man of India in the marketing domain.
Webinar Topic: (Then and Now) Evolution of Rural Marketing
Date & Time: 23rd April 2022 | 4 PM Onwards
"Our upcoming webinar, in the ongoing series of Decade of Change, is really an exciting one as two industry stalwarts, Mr Sanjay Kaul and Mr Pradeep Lokhande are getting engaged in a fireside talk, 'Tab aur Ab' – evolution of rural marketing - Then and Now! Mr Kaul has three decades of hands on experience in showing the path of rural, to India's who's who brands. Mr Lokhande – also fondly known as the postcard man of India, is the founder of iconic Rural Relations. They will bring in a host of insights which will be a good learning for all", says Biswabaran Chakrabarti, President, Rural Marketing Association of India (RMAI).
The series Decade of Change features discussions & deliberations upon the changes which the country has witnessed in the past one decade. The sessions cover areas like fintech, media, distribution, agriculture, among others.
To register for the event, visit: https://bit.ly/3qR370l
The webinars of the series are also available to watch on RMAI's YouTube channel: https://www.youtube.com/rmaiofficial