RMAI webinar series on rural marketing turns spotlight on agriculture & allied sectors
By Retail4Growth Bureau | May 13, 2022
The discussion will be moderated by Puneet Vidyarthi, Head - Marketing & Business Development (Construction Equipment Business), India & SAR, CNH Industrial (India)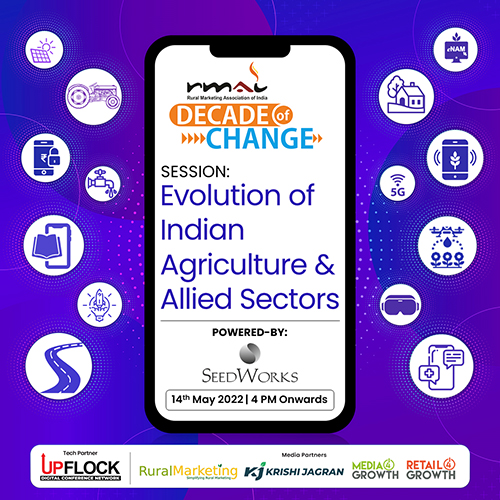 A lot has changed in the rural marketing domain during the past decade - From consumer behaviour and buying patterns to how the marketing efforts have drawn brands to this space. Agriculture growth is fundamental to the dynamics of the rural economy.
To put spotlight over the changes and how the agriculture & allied sectors have evolved over the decade, Rural Marketing Association of India (RMAI) has planned a panel discussion on the Evolution of Indian Agriculture & Allied Sectors.
The discussion will be moderated by Puneet Vidyarthi, Head - Marketing & Business Development (Construction Equipment Business), India & SAR, CNH Industrial (India). Vidyarthi possess more than 29 years of experience in fields of Marketing, Sales, Rural, Digital Innovations, Dealer Development, Procurement, Logistics, Parts, R&D and Power House Operation and has worked with organisations like JCB India Limited, Honda Siel Cars India, Grindwell Norton Limited, NBC Bearings and Indian Rayon.
The panel discussion will have the participation of Dr Anup Kalra, Director, Ayurvet Ltd; & Vice President, Rural Marketing Association of India (RMAI) & Dr Nandeesha K L, Senior Digital Agronomist, Xarvio Digital Farming Solutions, BASF India.
The virtual session will be held on May 14, 4PM onwards. To register for the webinar, following the link: https://bit.ly/3qR370l
The RMAI Decade of Change webinar series can also be viewed on RMAI's YouTube channel: https://www.youtube.com/rmaiofficial