Rohit Patra joins Gourmet Investments as VP - Design & Construction
By Retail4Growth Bureau | February 27, 2019
Gourmet Investments Pvt Ltd (GIPL), part of the Bharti Group, operates in the F&B industry in India with best in class restaurants, including home-grown and international brands.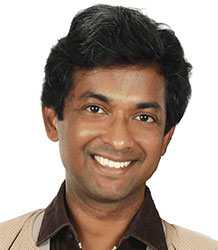 Retail design professional Rohit Patra has joined Gourmet Investments Pvt Ltd (GIPL) as VP- Design & Construction. Gourmet Investments Pvt. Ltd., supported by its parent company Bharti Group, is creating a benchmark in the F&B industry in India with best in class restaurants, both home-grown and international brands.
As a company, GIPL focuses on bringing in the best of talent, quality service and high pedigree food & beverage products. Some of the home-grown brands come under "The Project" series, namely The Bandra Project, The Runway Project, The Market Project & The Poona Project, all community centric properties, besides the other concept home-grown brand "The Typhoon Shelter", an authentic Chinese cuisine developed by celebrity chef "Christian Yang". Some of the international brand partners that Gourmet Investments Pvt Ltd works with are PizzaExpress, Ministry of Crab and Nihonbashi, amongst others joining this year. With 15 operational restaurants and over 7 new openings within the financial year, GIPL aims to open over 80 restaurants by 2020 in India and globally.
Rohit has over 19 years of experience in retail store design & development, fixture design and construction management, and his role at GIPL involves managing a team of architects, designers & construction managers. He is responsible for a range of functions, from design to execution, for a variety of brands. Prior to this appointment, Rohit was Head - Projects at Reliance Brands Ltd, where he had the opportunity of managing NSO project rollouts, from design management and procurement to execution, for various international premium & luxury stores including Diesel, Paul & Shark, Quiksilver, Steve Madden, Hamleys, Superdry, Brooks Brothers, GAS, MUJI, Scotch & Soda, Kate Spade and Bally brands across the country.
Rohit's other past stints include WD Partners, a US based Retail Design & Development firm (2nd largest in the USA), where he was Project Manager; Retail Fixtures & Furniture Pvt Ltd. (aka RF Square, a leading Retail Store Fixture Manufacturing & Design company), where he was Design Head, and RD & M where he was involved as Architect- Retail Designer.