RP–Sanjiv Goenka Group enters FMCG segment, launches Too Yumm brand
By Nabamita Chatterjee | Vjmedia Works | April 11, 2017
Launches two products'Foxnuts' and'Wheat Thins' under brand'Too Yumm'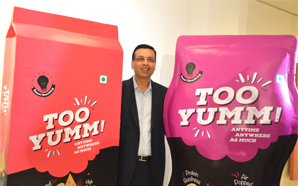 RP–Sanjiv Goenka Group announced the Group's entry into FMCG business. The first brand launch is Too Yumm!! under which two products have been introduced – Foxnuts and Wheat Thins. To begin with, both these products will be available in four flavours each that is a mix of Indian and international, and multiple new flavours will be introduced in the coming months. The packaged food business has been introduced under Guiltfree Industries Limited by the group.

Speaking about the new business, Sanjiv Goenka, Chairman, RP – Sanjiv Goenka Group, said, "We Indians love eating, and snacking in particular. We have a culture of uninhibited munching. Taste is paramount when it comes to making a choice of what to eat. Over the last few years, focus has shifted to healthy eating, but most consumers struggle to find tasty snacking options without compromising on the health factor. With the introduction of Guiltfree Industries, we want to bring to the Indian consumer great taste in a healthier version. We want our consumers to eat snacks, 'Anytime, Anywhere, As much with No Sharam'."

The plan is to launch 10 products with 40-50 variants over the next twelve months. The launch will happen in Kolkata, Pune, and Gurgaon, this month, with a city-wise expansion plan covering 30-40 cities in a year. The products will be sold through retail chains, neighbourhood stores and online platforms.

The brand Too Yumm!! will focus on providing consumers with tasty packaged snacks. RP – Sanjiv Goenka Group aims to build a 1 Billion US Dollar business in the FMCG space in the next 5 years. Growth in this sector will be both organic and inorganic.