Shopping with loyalty or thinking like a trader?
By Jim Hollen | Vjmedia Works | December 04, 2013
Cash-and-carry stores try tricks, from playing Bollywood music to customising orders, to retain customers.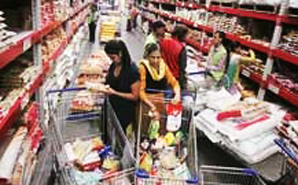 It's Friday evening and Bollywood music plays cheerfully at the sprawling Delhi outlet of Metro Cash and Carry. Music is not a regular feature here but a special on the weekends to make bulk shopping for businesses fun. Yashraj Film music is one of the 30-plus licences that the German chain, the only hardcore cash-and-carry player in India, has acquired. Others are also trying to engage the buyers similarly. The Ahmedabad store of Reliance Market, the group's cash-and-carry brand, greets customers with the songs of Mohammed Rafi even on weekdays and hosts musical evenings for its members at times.
Almost every organised wholesaler is now looking at ways to forge long-term relationships with buyers, which range from the police to religious organisations, schools & colleges to hotels & dhabas.(ANNUAL REVENUE OF CASH-&-CARRY COMPANIES)
Some are even busy tapping the secondary card holders, often referring to the spouse of a neigbourhood store owner as Mrs Kirana. A member, who must have a registered business, office or institution, typically gets three to four cards for shopping at the cash-and-carry stores. So, the additional cards can be used by the family.
Pampering buyers
The new-found pampering at such bulk-buying destinations is in contrast to the dust and grime at the traditional open wholesalemarkets across the country.
Even as cash-and-carry giants work on building relations, an executive at a leading chain argues traders who buy from these stores are a dispassionate lot. The only thing they are looking for is the "best rate". Just at that moment an oil trader comes running. He's upset the oil price at this store has not been lowered in line with the commodities exchange's rate flashed a few minutes earlier. "That's how closely they track the rates," the manager says. Is there any scope for customer loyalty in this environment?
Arvind Mediratta, chief operating officer, Best Price Modern Wholesale, the Bharti-Walmart cash-and-carry joint venture that the American retailer would run on its own now, has a story to tell. Mahavir Dhaba at Agra used to be a haunt for truck drivers till some time ago. When Best Price opened in Agra, the company contacted the dhaba to convince its owner that his business could transform. It did. Now he sources only from the American chain and has turned swish, attracting a different kind of clientele. The dhaba is now a lodge.
A top college of Indore, a management school in Lucknow, the Indian Army, a leading consumer products company, a pharmaceutical firm and a popular hotel brand are among the dedicated buyers at Walmart's cash-and-carry stores for anything from stationery to staff uniform to Diwali gifts. Walmart runs an everyday-low-price scheme, under which it claims to offer a product at the lowest prices, and a tier-pricing scheme, in which the more you buy, the less you pay. But the company says the latter scheme accounts for hardly a per cent of its offerings.
Reliance Market, which hardsells "deal of the week" as one enters a store, has been able to attract buyers with its ladder scheme. The more you buy, the lower the price goes. And, then, there's room for negotiation beyond the printed ladder price. Swami Narayan Temple across from the Reliance store in Ahmedabad has been doing such bulk deals at this cash-and-carry outlet for school bags and books that it uses for donation.
Another example of buyer-wholesaler relation is of a three-star hotel that asked a leading cash-and-carry chain for certain brands of oil, flour and rice as the new chef insisted on those. The store customised everything according to the hotel's demand. "Now their entire food supply goes from here," points out a company official.
Then there are other efforts. Bhopal's Walmart store is showcasing a concept - mera kirana (my grocery) - to tell the retailer how things can be kept at a small store measuring 80-100 sq ft.
Failed experiment
Not everything that is tried has worked though. French chain Carrefour had started with a dedicated buffalo meat section at its Delhi store, to draw people in for bulk buying. What it thought could be its uniqueness failed to click and the buffalo section lies vacant now.
A Metro spokesperson said, "We tailor our assortments and service solutions to the needs of the local market and this specialisation has stood us in good stead in every market." For example, it runs a specialised programme called chefology for its HoReCa (hotel & restaurant) customers.
Sources said a cash-and-carry outlet can get business for as much as Rs 5-7 lakh a month from a loyal neighbourhood kirana store itself. Even smaller daily buyers can make up for as much as Rs 2.5-3 lakh a month of sales for a cash-and-carry store. Arvind Singhal, founder and chairman, Technopak Advisors, pegged the opportunity for the cash-and-carry sector at 93 per cent of the total retail pie of $500 billion. Only seven per cent of the total constitutes modern retail; the traditional retail is sourcing through wholesale.