Snapdeal raises $500 mn from Alibaba
By Christopher Brace | August 03, 2015
This is the e-commerce company\'s first fundraising round this year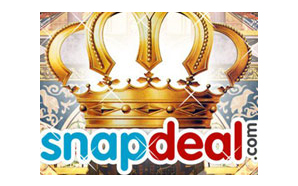 Kunal Bahl-led Snapdeal has closed a funding round in which it has raised $500 million from Alibaba and Foxconn, says a report by digital news portal Re/code, quoting sources.
The talk that Alibaba and Foxconn were looking to invest in Snapdeal had been going on for long. This is the e-commerce company's first fundraising round this year, after the company raised about $850 million last year.
While Snapdeal could not be reached for comment, emails sent to Alibaba and Foxconn outside of business hours did not immediately elicit a response.
Snapdeal, which had a gross merchandise value (GMV) of $2 billion at the end of 2014, is aiming for $10 billion in GMV by the end of this calendar year. The company was valued at $1.87 billion in Oct 2014 and is said to be seeking a valuation of $5 billion.
The latest fundraising came soon after reports that Flipkart, Snapdeal's larger competitor, raised $700 million recently. For Alibaba, this will be its second investment in an Indian ecommerce platform. The Chinese e-commerce giant already owns a 25 per cent stake in digital payments and ecommerce firm Paytm, through Ant Financial Services. It has also been reported that Alibaba will further increase its stake in Paytm to 40 per cent shortly.
Snapdeal has so far raised more than $1 billion, including $627 million from Japanese telecom giant SoftBank and an undisclosed sum in personal investment last year from Tata Group Chairman Emeritus Ratan Tata.
The Re/code report does not specify the amount of stake Alibaba and Foxconn have taken in Snapdeal or how the funds are split between the two investors. But it had been reported in the past that either company was looking to buy a 10 per cent stake in Snapdeal.
It was reported in March that Alibaba's stake purchase in Snapdeal might have "fallen off" due to high valuations being sought by the Indian online marketplace. The deal was earlier being pegged at $500-700 million. It was speculated that Alibaba was valuing the Indian firm in the range of $4-5 billion, compared with the $6-7 billion that Snapdeal was seeking.