Snapdeal targets $3-billion GMV sales
By Jim Hollen | Vjmedia Works | December 03, 2014
GMV, typical to the e-commerce sector, is a company's annual run rate, based on the peak sales of its products for a particular month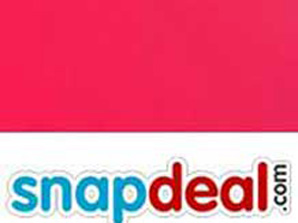 Snapdeal, the online marketplace modelled on China's Alibaba, is raising stakes in the e-commerce segment. A month after it raised $627 million (Rs 3,762 crore) from Japanese investor SoftBank, the company is targeting an annual $3 billion (Rs 18,000 crore) in gross merchandise value (GMV) sales by March 2015.
Company sources told Business Standard the Snapdeal management had set a goal to increase GMV to $3 billion from $1 billion (Rs 6,000 crore) in August this year. It is learnt the company touched $2 billion (Rs 12,000 crore) in GMV sales during November, as the festive season boosted sales.
Recently, Kunal Bahl, co-founder and chief executive of Snapdeal, had told this newspaper he wasn't looking at growing the company in terms of millions of acres, as some of his competitors were. "We want to keep the company small," he had said.
GMV, typical to the e-commerce sector, is a company's annual run rate, based on the peak sales of its products for a particular month. It cannot be described as actual sales value; the e-commerce sector's actual sales value is about $4 billion (Rs 24,000 crore), a fraction of the overall estimated retail pie of $600 billion (Rs 36 lakh crore).
Snapdeal's rival Flipkart had last announced its GMV in March this year — $1 billion. Many rounds of funding later, sources estimate Flipkart's GMV at about $3 billion, a figure Snapdeal is trying to catch up with.
But Flipkart is thinking ahead, too — it is set to roll out another round of big discounts, this time only to shoppers using mobile apps. The Flipkart sale is expected to go live from December 8. The company's Big Billion Day sale in October had led to shopping frenzy, followed by disappointment with technical glitches.
While Flipkart was founded in 2007, Snapdeal came into existence in 2010, as a daily deal platform. Snapdeal was the first established online player in India to shift to the marketplace model, a format in which a company hosts traders on its website to sell products, in 2012. American online giant Amazon, which came to India in 2013, hasn't made any announcement on GMV, though industry estimates suggest it had touched the $1-billion mark in a little more than a year.
Among other categories, Snapdeal sees much promise in automotive products, including cars, two-wheelers and accessories. While it had tie-ups with Mahindra & Mahindra and Hero for automobiles, the company was in talks with other car companies for selling their products online, an official said. The category, pegged at about Rs 15 crore GMV, was expected to be close to Rs 300 crore by the end of this financial year, he added. For this category, the GMV target for the near term is Rs 1,000 crore.
On categories, Bahl said more were on the way. "We paused during Diwali…My view is if a product/service can be bought offline, there is no reason why it can't be sold online." Online real estate shopping is another area Snapdeal plans to step into. Sources said the company might venture into building houses, too. Fashion and electronics remain Snapdeal's large volume generators, much in the manner of other companies in this segment.