Snapdeal's pre-approved loans for festive season
September 15, 2015
Loan amount to be between Rs 1,00,000 and Rs 1 crore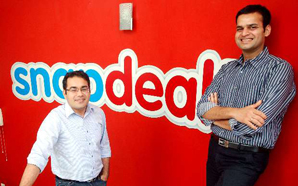 With the festive season around the corner, online marketplace player Snapdeal is going all out to woo merchants on its platform by offering pre-approved loans from banks and NBFCs.
"During festive season, merchants too need to ramp up their supplies and are in need for easy and higher amount of working capital. We have customised offers for merchants. But during this festive season, merchants on Snapdeal marketplace will get pre-approved offers from banks and NBFCs," said Vijay Ajmera, senior VP, Snapdeal.
The company though declined to comment on the banks or NBFCs that would be providing the loans. It, however, said that the pre-approved loan amount would be as low as Rs 100,000 to Rs 1 crore. The loan size would depend on the past sales data of each vendor, projections for the festive season and other criteria.
These offers are part of the Snapdeal's capital assist programme — a platform for sellers to meet their growing working capital needs - that so far has enabled 300 merchants to avail loans of over Rs 100 crore.
The programme, started last year, had raised Rs 50 crore for merchants as of March, 2015. Since March, Ajmera said that the platform has raised Rs 100 crore for over 300 merchants and this figure will go up further during the festive season.
"We launched this programme because we wanted our sellers to match our growth rate. If we are growing 3x or 4x times, we also want them to grow fast but for smaller sellers working capital is a big hurdle. There is a significant spurt in the working capital requirement during festival season," he said.
The ease of working capital requirements will also aid Snapdeal in attracting more merchants to its marketplace. Snapdeal at present has 200,000 merchant on its platform and is looking to scale this up to 250,000 sellers by the end of this year and 1 million within the next three years.
In an earlier comment Snapdeal had said: "Our aim is to empower over 1,000 of our sellers in the next one year through this platform. We have also seen a positive response from the funding partners and we hope to extend the network to 25 banks and NBFCs by end of this year." Snapdeal is among the earliest e-commerce players to have started a financial assistance pogramme for sellers. Earlier this year, Flipkart too launched its financial assistance programme called Growth Capital Initiative.