Social Media & Its Influence on Shoppers
By Nabamita Chatterjee | March 01, 2018
Social Media has grown to become one of the most important shopper marketing tools of new-age retailing. Landing straight into the hands of the consumer… making the best of this is the goal of brand marketers today. In this article Point-of-Purchase, has tried to briefly trace the relation between the social media and how does it influence the shopper's decision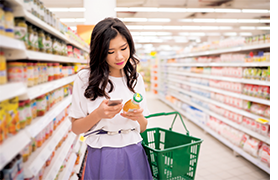 We begin our mornings by catching up on what we missed on Facebook or Instagram and even go to bed to after a healthy doze of browsing through social media. It defines what we are today! Our personality is being developed simultaneously through this platform and labelling us in different ways - A Strong Voice, A Rebel or Conformist, Superficial, Humanitarian, Spiritual and more. On the other side, it is even defining who we are as consumers, provides a crucial portal for marketers to reach their target audience. It has the ability to make people act in very specific ways that are positive to different businesses.
In this article Point-of-Purchase, has tried to briefly trace the relation between the social media and how does it influence the shopper's decision… turning into the most important shopper marketing tool of the new millennium.
Social Media & Millennials
Industry reports by Deloitte mentions that 47% of millennials say their purchase decisions are influenced by social media. For perspective, the figure is 19% across all other age groups.
It has been observed that at least more than other generations, millennials pay close attention to social media while making decisions on shopping, but it is not likely that they are willing to listen to the marketing messages of brands. Instead, millennials use social media as a way to receive input from their peers about what products and services are best to use.
The Deloitte report also provided some insight into which product categories work best on social media. According to their data, 56 percent of consumers buying baby products are influenced by social media, compared to 40 percent for home furnishings, 33 percent for health and wellness and 32 percent for automotive.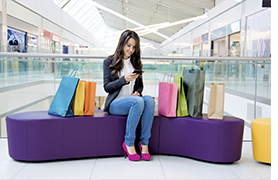 In this context, Aaradhee Mehta, Vice President, Shopper Practice, Geometry Global mentions, "There are certain categories where the impact of social media as an influencer to purchase decisions, is significant. In the baby care segment for example, while the new mother considers advice she receives from the earlier generations (i.e. mom/mom-in-law/elders), she is keen to ratify it all and is on the lookout for new information. Blogs, Facebook pages, Communities are her go to places, to read and discuss topics with other moms. A quick search on these pages will throw up a ton of information for her, on food, care, toys, diapers, oils, clothes. She does her due diligence, in order for her to make informed purchase decisions. When it comes to using social media to influence shopper behaviour and the subsequent purchase decisions, it is important to approach things strategically. While it is important to be visible online by way of banners and ads, whether these influence purchase decisions is debatable. https://social.ford.com is a fantastic example of using social media to influence shopper behaviour. Cars are first researched online, but the information is fragmented in the form of reviews, test drive feedback, consumer experiences etc. social.ford.com is a platform for Ford users to share personal experiences. And the information is segmented under categories that are key decision making factors i.e. Mileage, strength, sturdiness. One click and you'd be reading all you need to know, from current users. In the CPG category, Walmart Moms, Blogger meets and launches done by personal care etc. are good examples. Coca-Cola's Share-A-Coke campaign was again a great strategic approach to using social media to influence purchase decisions."
The effect of social media influence over purchase decisions is a powerful one. Consumers who include social media as part of their shopping process are four times more likely to spend more money on purchases. They're also 29% more likely to make a purchase on the same day when using social media to make purchase decisions, according to industry reports.
Making impactful customer connect
Oprah Winfrey brilliantly put it in her Harvard speech that 'We all want validation'. This probably sums up our action today. As consumers, we are looking for validation on the clothes we buy, food we eat and anything we purchase.
In this regard Archan Banerjee Head- Digital Marketing, Dabur India Ltd mentions, "It is not only regarding the purchase decision but social media as a whole generates lots of product enquiry and thus leads to trials of our brands. As more and more shoppers use this platform to communicate and socialise, they have been looking for critical validations as well."
For instance, Dabur Chyawanprush which is a product to build up the immune system, is popular among mothers for decades.Now,through social media they look for solutions which are need based and discuss with fellow parents on the product and better alternatives if any. Thus, social media has a great relevancy when it comes to different categories as the customers gets constant corroborations on their requirements.
BK Rao Category Head of Parle Products also opines that as social media is having an impact on the society at large, the company is having a conscious presence in platforms like Facebook and Instagram, Hotstar and different e-commerce portals to build up an engaging customer connect programme. He said, "In recent times, the contribution from online has jumped up 5 times, if we count it on a pie of 100. We have been doing specific digital campaigns on social media especially during festivities like Diwali, New Year and such."
The Store & Social Media
It is important to ensure that the brands and retailers encourage the customers to join the conversation about their retail space and products on social media. Creating a brand or product-specific hashtag, and promoting it on the website, in the brick and mortar store, and through own posts is an integral part of today's digital campaign.
Pawan Sarda, Group Head Digital, Future Group shares, "Over a period of past 24 months, Big Bazaar has forayed into the digital space with a clear mindset of driving customers from Online – offline to the store and thus bringing in new set of customers to Big Bazaar."
For this purpose two interesting ideas were put into action as informed by Future Group. Firstly, #DecideYourPrice, was a campaign where in the customers decide the price of the product on the online space and walk into the store to buy the same at 'India's decided Price'. Done twice a month, the campaign has seen sales of the product and category go up by a mind-boggling 500-600%. Secondly, Smart Search: 'Google Search' is a way of life and customers who search for the brand have a very high intent to consume/engage with the brand. Future Group built in 'Smart Search' where in every customer who searches with prefix of Big Bazaar eg: Big Bazaar trolley /Big Bazaar cooker etc., gets an exclusive coupon to be used at store. This takes place on first Friday of each month and over 1,80,000 coupons have been distributed in a single day which has seen an incremental walk-ins of 30,000 to the store.
For SPAR India, social media occupies a good share in their marketing mix. In the last 12 months, the retailer has been extensively using social media to promote various communications.
Pearlraj P Cannivady, VP - Marketing, SPAR Hypermarket, shares, "Recently we rolled out 'Celebrate India' campaign highlightingthe various festivals, cuisines, customs and traditions that are celebrated in various parts of India and thereby showcasing the diversity of our country and yet how beautifully we are united. Also through our 'Season of Joy' campaign, SPAR India and its customers played Santa to 7,200 children from SOS Children's Village. It was an integrated campaign – online and offline with the core communication hashtag as #SeasonofJoy."
All SPAR outlets had a special photo-wall of the children accompanied by their wishes for Christmas. Shoppers could help meet these wishes by buying the desired products and placing them at a special collections counter. Over 16,000 gifts were collected on ground at the SPAR stores.
Thus, the physical retailers are of the opinion that as social media is becoming a platform of great engagement, it should not be deal in isolation or as a separate wing, rather drive customers from online to offline for a full 360 degree experience.
In this regard we must also mention that associal media is a network which can be highly leveraged on the basis of consumer demand and needs, much more integration in the media mix and at the retail level can maximise the benefit on part of both the entities, be it the brands and shoppers. Abhijit Das, General M'anager, Tracy Locke, (retail wing of DDB Mudra Group) shares, "It is important to have a better amalgamation of ideas and thoughts while strategising the brand campaign where both the digital agency, creative agency and the retail agencies all can come together under one roof and ideate. So far it is possible at the communication level but not happening at the service level."
Key Takeaways
It is clear that various businesses, e-commerce and brick-and-mortar need to have a robust social media manifestation in order to drive more sales. But focusing on the deliberations surrounding the brand and products will benefit in better understanding the shopper's behaviours and how they use social media to hunt for and share their know-how with the product. This will permit one to focus more on social media plan where it matters most.