Starbucks unveils Teavana in India; keeps pricing competitive
By Dinesh Jain | January 19, 2017
The coffeehouse chain is introducing tea as a core offering in 88 stores in India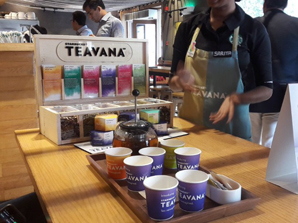 Tata Starbucks, the joint venture between Tata Global Beverages and Seattle-based Starbucks Coffee Company, launched a chain of tea bars, Teavana, on Wednesday — a year after Starbucks' Chairman and Chief Executive Officer Howard Schultz had spoken about it.

The move would spice up the Rs 2,000-crore coffee retail market in the country, which has players such as Café Coffee Day, Barista, Costa Coffee and Di Bella Coffee, among others.

Tea has been on the menu of most café retail chains in the country, but in the future, it could be branded like Starbucks has done with Teavana, said experts.

In a conversation with Business Standard, Sumitro Ghosh, chief executive officer, Tata Starbucks, said he expected to double tea sales within Starbucks stores through Teavana.

While the tea bars will initially be housed inside all 88 Starbucks stores in the country to begin with, Ghosh said his firm was evaluating launching standalone Teavana outlets in the future.

Industry sources said standalone Teavana stores could be launched in about six to eight months once the format has been sufficiently tested within Starbucks outlets. Globally, Teavana, available in the US, Canada, Mexico, Indonesia, China, Japan and West Asia, has a combination of standalone outlets and in-store presence within Starbucks cafés.

The price of the Teavana range of hot, cold and infused teas is competitive, starting at Rs 130 per unit (or per cup) and extending to about Rs 315 per unit. Coffees at Starbucks start from Rs 125 extending up to around Rs 300 per unit.

Some 18 different tea offerings have been introduced under Teavana, with a special India blend, developed jointly by Tata Global Beverages and Starbucks. This is priced at Rs 295 for a pot, implying that the per unit cost works out to about Rs 148, sector experts said. A pot, for the record, can serve two people.

Starbucks will also sell the Teavana India blend separately within its stores in a bid to push consumer sales of its products. While Starbucks does not retail its products outside its stores in India, globally its tea and coffee products are available in grocery channels.