Tablez opens Maharashtra's first outlet of Cold Stone Creamery
By Satarupa Chakraborty | August 21, 2018
Located at Phoenix Marketcity, Cold Stone Creamery will bring unique international ice-cream experience to Pune. Tablez is looking to expand their presence in Maharashtra with 10 stores across the state over the next year.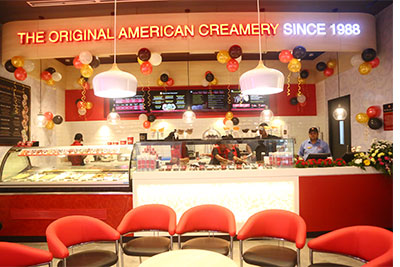 Tablez, the organised retail division of LuLu Group International, has today launched the first store of premium ice cream brand Cold Stone Creamery in Maharashtra at Pune's Phoenix Marketcity.
A favourite among ice cream lovers around the globe, Cold Stone Creamery, has successfully completed 30 years in 2018, with a presence in over 30 countries worldwide. It is well known for its innovations and its exceptional style of customer service, especially in crafting the freshest quality ice cream products.
Adeeb Ahamed, Managing Director, Tablez said, "We are excited to open the first outlet of Cold Stone Creamery in Pune. We are sure it will get the same love from Pune denizens as it has the world over. The global trend is towards fresh and hand-crafted ice cream and Cold Stone Creamery is a pioneer in this space. We look forward to serving our amazing new range of ice cream flavours to all, including the discerning foodies in Pune."
Speaking about the expansion of Cold Stone Creamery, Adeeb Ahamed said, "We are extremely bullish about our expansion plans. Premium ice cream segment is growing at a fast clip in India. We will be looking to expand our presence in Maharashtra with 10 stores across the state over the next year. By 2021, we expect our overall outlet count to reach 125 across the country."
Tablez, the organised retail arm of retailing giant Lulu Group International, has introduced leading global brands in F&B, toys, lifestyle and apparel to India. The company has signed master franchise agreements to bring brands like Springfield, Women'Secret, Toys'R'Us and Babies'R'Us to the country. Tablez has also signed a strategic cooperation agreement with Chinese lifestyle brand YOYOSO to bring its stores to India. In the F&B space, Tablez holds franchise rights for Cold Stone Creamery and Galito's in addition to successfully developing two home-grown brands: Bloomsbury's and Peppermill. Tablez currently operates in more than 60 outlets globally and plans to expand to 300 outlets by 2020.