The art of winning customers
January 05, 2016
Faasos wants to be the Amazon of food, willing to go to zero walk-in customers as it seeks a pan-Indian status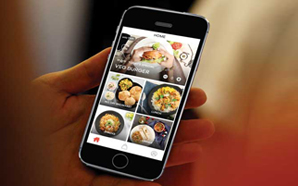 At the Faasos Mumbai office, an array of brightly lit screens flashing green and red greets the rare visitor that crosses its portals. Red stands for a snapped internet connection and is a cause for huge alarm. In another room a bank of monitors tracks the heating and refrigeration processes across all centres and even the most minor divergence triggers off a rash of e-mails across the food start-up's network. Instead of large kitchens and white hats, Faasos is focusing on the heavy machinery and it is banking heavily on technology to build itself as a brand that delivers on-time, affordable meals to the urban Indian.
Very little is being left to human oversight, this is the point that the team at Faasos is eager to make clear from the get go. They don't want to be called a quick service restaurant (QSR), it's the food tech moniker they are after. But in the flood of food-tech companies struggling to stay afloat, what makes them aspire to be one? Well, simply because for brands like Faasos, technology is the key to survival. Data, not discounts, powers food brands in India according to a recent industry report.
The endeavor is to use technology to get up close and personal with customers, however scattered they may be. Faasos is currently in 15 cities, Vishakhapatnam, Coimbatore, Nagpur, Jaipur and Bhopal are the latest to be added to the list. Reports said that the company has raised Rs 200 crore in a fresh round of funding. Most of the money that Faasos raised (about $50 million) has gone into technology upgrades. Until recently, the company relied on social media and word-of-mouth recommendations to penetrate the market, but a few months back, it launched TVCs where it positioned the brand as a replacement for a home-cooked meal. But to get into the customer's call logs, Faasos needs to build its brand first.

On call, everywhere


Faasos currently follows pizza chain, Domino's, model. It is in every neighbourhood, ensuring a standardised product and guaranteeing delivery in 30 minutes. "Except that 50 per cent of Domino's revenue comes from dine-in customers and 97 per cent of our orders are from the app," says Revant Bhate, chief marketing officer, Faasos. "We want to be the food conglomerate version of Amazon." Ideally Faasos wants to exist without a single physical outlet.
To do that its brand must be easily recalled and trusted. Data will come in handy here. Faasos is using customer insights to build a product that is closely attuned to their taste buds and daily needs. Bhate says that Faasos, to optimise orders during off-peak hours, has introduced breakfast and chai-snacks as a category. The company claims it processes 3,50,000 orders per month and plans to cross a million orders by the next financial year. "Each customer orders at least 1.9 times a month," Bhate says. The company aims to get up to five orders a month.
Creating a buzz


In recent months, several mobile handset makers have launched their phones through invitation-only sales initiatives on online stores. Faasos is taking a leaf out of their book. It has launched an app, Faasos Daily, for its Gurgaon-based outlets. Around 300 people, chosen by the company, can pre-order their meals up to three days in advance. Faasos plans to expand this into a full-fledged subscription service in the next six months.
A similar initiative will be launched in Mumbai in January. "We want this to be invite only, just like Gmail originally was. Now, everyone has an account. As every user recommends someone, we will add Faasos credit to their account, which they can redeem when they place orders," Bhate says. Such a tactic is particularly useful in cities such as New Delhi, where the brand still has to establish itself.
Getting people to talk about the food, Faasos expects, will also help it make the next big leap: go dark. In regular parlance, this means doing away with all walk-in outlets and existing purely as an order-delivery chain. The company says it is close to doing that in Mumbai, its home centre.
"Soon, we plan to have an experience centre just like Flipkart to help people order," says Bhate. However this could scupper its entry into tier-2 towns, where it is believed that customers prefer to walk in to an outlet before buying online. But Bhate explains that in many towns, customers are extremely comfortable ordering via apps. "For Coimbatore, their first access to the internet is the phone," he says. These cities were picked as they were close to major metros and are areas where their competitors will take a long time getting to.
Who are Faasos' competitors? "More than the likes of Domino's or McDonalds, we are closer to HolaChef, TinyOwl Homemade and FreshMenu," Bhate says. These companies are also building themselves up as brands on apps. To stand out from the crowd, Faasos is focusing on price. For the experiment in Gurgaon, breakfast will be priced at Rs 75-100, while lunch and dinner will cost between Rs 110-120. Its average ticket size is Rs 250-300, while HolaChef's is Rs 300-310.
Saurabh Saxena, founder, HolaChef is also using data extensively to build his brand. The company has a similar business model to Faasos except for the outlets. "We don't plan to have an outlet anytime soon but, in this business, never say never," he adds.