The new face of private labels
Vjmedia Works | April 25, 2014
Offline retailers are increasing their investments in their own brands to overcome twin challenges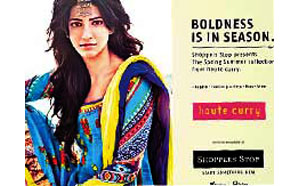 In the downturn, shoppers are keeping their dates with malls only when there are rampant discounts. As a result, the fashion and durables retailers are having to negotiate with brands and take a hit on margins. It is leading them to ramp up their private labels like never before. From signing on Bollywood A-listers to investing more in the supply chain, they are ensuring their in-house brands come handy when it matters the most.

In-house brands allow retailers to control price-points, retain margins and of course, experiment even when the consumer turns stingy.

While Future Group's hypermarket, Big Bazaar, had made major strides in marketing its private labels by getting Sachin Tendulkar, the cricket icon, to endorse its Sach toothpaste, fashion and consumer durables retailers did not have such elaborate plans. But now Shoppers Stop and Lifestyle, two national anchor store chains are sprucing up theirs. Lifestyle, belonging to Dubai-based retail and hospitality conglomerate Landmark Group, recently signed up the actor Deepika Padukone to model for its apparel brand, Melange, for its print ads. Shoppers Stop had earlier signed up actors Soha Ali Khan for its ethnicwear Kashish, and recently signed up Shruti Haasan for its fusionwear Haute Curry.

Govind Shrikhande, MD, Shoppers Stop, says, "To create a personality for private labels, there needs to be a distinct style of visual merchandising and brand ambassadors. These help raise its aspirational quotient." Shoppers Stop's value brand, Stop, garners the highest volume sales, more than even third-party brands.

Kabir Lumba, MD, Lifestyle International, says, "We see our brands gaining large-scale acceptance among customers, to the extent that these have become key differentiators vis-a-vis other stores." Private labels constitute less than 30 per cent of its revenue.

Shrikhande says that for retailers with private label contribution of less than 20 per cent (16-17 per cent for Shoppers Stop), investments would be mainly in advertising to build the brand-image, while for retailers who get more than 70 per cent of revenues from them would need to make supply chain investments, too.

The Tata-owned Croma, a durables and electronics chain competing with Reliance Digital, is investing in the back-end. Ajit Joshi, CEO, Croma, says it is worth investing in a portfolio of private labels that brings in around Rs 181 crore (up from Rs 28 crore in 2012-13). Croma sources about 60-70 per cent of its private labels from India but would now source products from Turkey, China, and Ireland.

Croma's sister concern, the Tata-owned private-label-led fashion chain, Westside, gets most of its revenue from in-house brands that account for around 85 per cent of its merchandise. Croma is looking to make its private label's share a double-digit percentage, as Joshi says "the journey has just begun".

Pantaloons, which was acquired by Aditya Birla Group in April, 2013 from Future Group, makes about 50 per cent of its sales from in-store brands. Shital Mehta, CEO, Pantaloons Fashion & Retail, had earlier said that the focus in the coming time would be to increase margins and its revenue share from private labels is expected to jump to over 70 per cent in the next year.

New triggers
Shrikhande says that even those brands which start with exclusive tie-ups with his chain eventually expand to standalone stores and competition. E-commerce, too, has eaten into the sales of multi-brand brick and mortar retailers. "Private labels afford us exclusivity. Now, there is the other avenue of online sales for other brands. Hence, our leverage with outside brands, especially in apparels, has gone down. With our own brands, we can ensure profitability as there is no middle-man, control the price-points and decide whether to discount or not, unlike others brands with whom we have to follow suit when all other outlets for those slash rates." Joshi of Croma says that private labels also make room for innovative products from across the globe: "A movable air-conditioner is one of our innovative products, for example". Margins in private labels can range from 30-50 per cent (more than the usual 20-25 per cent), according to market experts.

Now is a good time to invest more in private labels because during sales or discount offers, private labels can experiment with new ranges as the footfalls would translate into more shoppers perusing it at the stores, says Shrikhande.

A Nielsen study in 2013 estimates the private label market to reach $500,000 by 2015, noting that the new generation shopper is less loyal to brands and more open to experimentation with private labels. Food, rather than fashion and durables, dominate store brand sales.

Harkirat Singh, MD, Woodland India, is not alarmed by the renewed focus of multi-brand retailers on their store brands. He says, "As more consumer shift from unbranded to branded products and modern retail, the sheer numbers will insulate leading brands like us from any adverse impact."

Industry experts also point out that it might be easier to launch private labels than assure quality and after-sales service. 'Especially in categories like electronics, there is a need to develop expertise in handling after-sales trouble. With new assortments, there might be disappointments and ensuring the quality would be a tall task," says Gaurav Marya, chairman, Franchise India.