The New Ways of Retailing Mobile Handsets
By Nabamita Chatterjee | December 15, 2017
Smart phones are integral to us today. Coming at affordable prices, great variety and available at every street corner, the physical retailing of mobile handsets has reached new heights in the Indian subcontinent. Point-of-Purchase chats up with some of the leading retail solution providers who have been working for this burgeoning category, to find out current trends and growth opportunities here.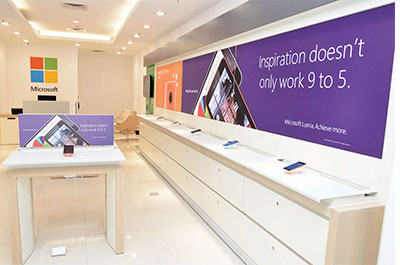 India is currently the world's secondlargest telecommunications market with a subscriber base of 1.05 billion and has registered strong growth in the past decade and half. The Indian mobile economy is growing rapidly and will contribute substantially to India's Gross Domestic Product (GDP), according to report prepared by GSM Association (GSMA) in collaboration with the Boston Consulting Group (BCG), and as stated in the report of India Brand Equity Foundation IBEF.
Top Brands in Indian market
As per International Data Corporation's (IDC) Quarterly Mobile Phone Tracker, the influx of mobile brands from China seems to be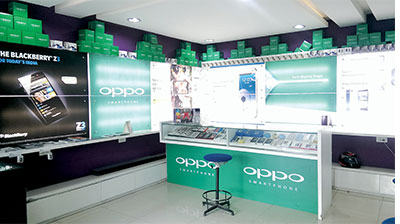 growing steadily in India. Samsung continued to retain the top spot, followed by Xiaomi, Vivo, OPPO and Lenovo. Together, all these top five brands contributed to almost 70 per cent of the total smartphone market so far.
India registered a growth of 15 per cent annually in the first quarter of 2017, reaching 29 million units. Chinese smartphone brands expanded their share of the Indian smartphone market in the June quarter (Q2) of 2017, continuing a trend seen over the past few quarters, shows the latest Quarterly Mobile Phone Tracker report by research firm IDC (International Data Corporation).
Current Trends: Penetrating the retail market
-Most mobile brands are moving very fast into offline markets to widen their reach to the mass market, addressing consumers in tier II and III cities along with online retailing which is also a crucial factor for this category.
-While mobile brands took their initial steps through MBOs, the increased competition in the category saw a shift towards brand creating their own experience zones such as exclusive shop-in-shops, kiosks and exclusive brand outlets. This was the only way to standout from the smartphone bandwagon.
-Smartphone purchases are impulsive today, where the store plays a major role in influencing the customer through brand experience, service and engaging in-store marketing.
Meeting International Benchmarks
The international brands dominating the Indian market come with stringent standards for quality at their stores, and the indigenous retail solution providers have been working towards complying with these global benchmarks. Solution providers like Cantech Engineers Pvt. Ltd., Synergy Punching, Kider, Renam and such, mention that there are strict quality control checks which they have to adhere to in order to be associated as retail service providers for this industry.
Sashank Chaturvedy, CEO, Cantech Engineers mentions, "As we have full setup in our factory with all machineries and fabrication units there has not been any challenge on our part while complying to the standards needed by the international mobile brands. We had to go through each process of compliance and we have been able to breakthrough all of them."
Chand Basha, Director, Synergy Punching opines, "60% of our business comes from this category and we have been working with all major brands, be it, Samsung, Gionee, LG. We have been providing end to end solutions for EBO's and MBO's in this category and so far maintenance have not been any issue from our part, be it for international or national brands."
Growth Opportunities
The POP and Retail Solution Providers have been able to garner good growth from this industry, with a considerable amount of business revenue from this sector. The retail solution providers feel that the future of MBO is very big and perhaps unlimited for this segment in the times to come.
Arun Prakash Rana, Proprietor, Concept and Solutions Meftab shares, "We have been giving all sorts of retail furniture fixtures and signage solutions to this industry and 60% of our total business is coming from this sector. Having worked with all of the major brands be it Oppo, Vivo, Micromax, Lava, Panasonic and such we have been able to design innovative display solutions for them both at the EBO and MBO level.
"From designing flagship stores to display units and signage for a variety of retail outlets, Kider India has created a range of display and storage solutions that allow mobile companies to ensure product presence in a variety of retail format. "About a quarter of our revenue comes from this industry. We are already working with leading mobile brands in India and we have plans in place for deeper penetration into this segment to increase our share in the industry," shares Sanjoy Lodha, CEO, Instor by Kider India Pvt. Ltd Shreesh Sharma, Director, GV Display also shares, "A major chunk of our business comes from the fixture solutions we provide to the major mobile handset brands and we feel there is plenty of scope untapped in this sector".
Challenges for the pop industry
Though this sector has been moving quite vehemently but the recent economic reforms like demonetization and GST had some challenging impact in this sector and thus there has been a little sluggish atmosphere prevailing on this industry since last two quarters as the brand spends went down. Though, the POP industry is hopeful to see a revival in projects from this sector, it believes that the pop vendors need to further invest and innovate themselves to meet the international standards.
Ragesh Bhatia, Co-Founder & Director of Renam shares, "The retail budgets for this industry has been dropping quite significantly, as a solution provider today we are not working much with this sector anymore and perhaps only 15% of our revenue is coming from the mobile handset industry. Although I believe that as this segment is very competitive, the overall spend is going to be neutral."
Agreeing to the same, Nirmal Bafna, Director of Colormagix shares, "Previously we used to make a lot of innovative POP items for this category but now the market spends very less on such elements. The profit margins are also very stringent."
Way Forward
Thus, we may conclude by saying that the pop industry players have mixed opinions about the growth and demand for in-store branding and marketing elements of smartphone category. But with the rising competition in this sector each day, it will propel the solution providers to further invest in strategising better and innovative pop solutions for the mobile handset industry. Be it making novel pop items, giving smart signage solutions or fixtures and turkey projects, everything seems to be on the cards for solution providers with the emerging market and penetration of new brands each day.