Titan helps Tatas win retail sweepstake
By Chaitanya Muppala | Vjmedia Works | August 08, 2014
Leadership position and growth potential prompted chief Cyrus Mistry to identify retail as one of the group's four growth clusters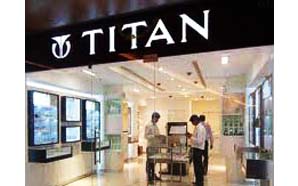 At the Tata group's annual management meeting in 2002, former chairman Ratan Tata had set a target for the group's retail business across all formats. The figure he mentioned, Rs 10,500 crore in 10 years, was considered audacious, as the business accounted for only Rs 150 crore.
But the retail vertical accounted for Rs 12,664 crore in FY12. That the growth engine continues to be in full throttle is evident from that the vertical, which includes listed and unlisted companies such as Trent, Titan, Tata Starbucks, Infiniti Retail and the group's telecom and agri retail stores, has posted revenue of Rs 16,480 crore for FY14, according to figures provided by the Tata group.
Of this, Rs 10,927 crore has been contributed by Titan, which makes and retails watches, jewellery and eyewear. Exports accounted for Rs 220 crore.
Mukesh Ambani's Reliance Retail posted revenue of Rs 14,496 crore in FY14. The Kishore Biyani-led Future Group's three main listed companies - Future Retail, Future Lifestyle Fashions and Future Consumer Products - recorded revenue of Rs 15,404 crore.
Perhaps, the group's leadership position and potential in the retail segment prompted Tata Sons Chairman Cyrus Mistry to identify retail as one of the group's four growth clusters in his recent Vision 2025 statement.
"Organised retail penetration is very low. By being in the retail sector, the Tatas have made the right choice," said Bhaskar Bhat, managing director, Titan Industries.
While the group's retail business accounts for just two per cent of its revenue of Rs 6,24,757 crore ($103.27 billion), India's organised retail segment is eight per cent of the total retail market of $478 billion. Retail consultant Technopak said organised retail was expected to account for 14 per cent of the overall retail market by FY19.
A Tata executive said: "If you look at the country's electronics market, Croma has big potential to grow. But we will always focus on the bottom line."
The group's retail segment runs 1,400 stores across Trent, Titan, Infiniti Retail and Tata Starbucks. Reliance Retail runs 1,691 stores, Future Group 850 stores.
Tata group insiders said having global companies as joint venture (JV) partners has provided group companies the potential to grow. Tata Global Beverages, which has a JV with US-based coffee chain Starbucks, runs 50 outlets, in two years of its launch here. Spanish retail chain Zara, which has a JV with Trent, recorded profits in the second year of operations in the country.
The Tatas clinched a deal with Tesco, first for back-end partnership and then for a retailing JV, the only JV for front-end retailing between an Indian and a foreign entity.
While the Trent-Tesco JV is planning to open five to six stores this year, the Zara venture is expected to open multiple stores.
Having built a strong network of bricks-and-mortar stores, the group will focus on e-commerce in a big way. "E-commerce will be a big area," said a Tata executive.
Arvind Singhal, chairman of retail consultancy Technopak, agrees. "They have a successful technology company in TCS (Tata Consultancy Services. They have a good network of telecom and strong brand equity. They can do so many things in merchandise services and financial services online," he says. "They have become one of the largest contenders to become e-commerce players."
A Tata Sons spokesperson didn't respond to specific questions on the group's growth plans. "Group-wide initiatives on aspects such as customer centricity, consumer insight, diversity and internationalisation will allow harnessing of synergies among companies, along with greater sharing of best practices and investment in joint development of capabilities and future technologies," he said. "As a part of this strategy, the group will strongly champion companies that are world-class and, where necessary, facilitate creation of new companies."
In terms of expansion, Singhal believes the Tata group's retail companies will have to be more aggressive. In the past, companies such as Trent have been criticised for sacrificing growth for profitability. "By reading Mistry's statement, if they want to be among the top 25 companies in the world, they will have to become more aggressive than before. You cannot be in the top 25 companies and still remain conservative," he says.
A Trent executive says cautious growth is non-negotiable. "Today, of the 20 properties we see, we select a property that can make money. We will not sign two properties out of 20 just because we have money."