Tranz Mannequins launches saree draping service
By Satarupa Chakraborty | December 12, 2017
Tranz Mannequins starts saree draping service to help retailers display the patterns and design of the merchandise better. Tranz is already working with saree retailer Parthas with this service.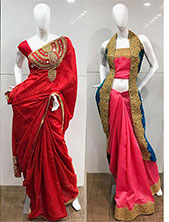 Going a step further than just delivering mannequins to retailers and brands, Bangalore-based mannequins supplying firm Tranz Mannequins has recently started saree draping service. The firm has already started offering this service to south India's leading saree retailer brand, Parthas for their Nagercoil and Trivandrum outlets.
Talking to Retail4growth, Siby Varghese, Director, Tranz Mannequins, explained, "Over years of observation, we have seen that saree draping is a challenge for many retailers in India, even after being in business for many years. Many a times, they think that the mannequins are faulty if the display does not do justice to the design or pattern of a saree. Hence, we decided to extend this service to them, where we not only help them achieve the styling but also train the in-store staffs to learn in order to execute later. We have observed that there's growing demand of this service in many south Indian states like Tamil Nadu and Kerala, where saree covers a huge part of retail business. We have already given this service along with delivering the mannequins to Parthas's Nagercoil outlet. We will start at their Trivandrum outlet shortly.".