TRRAIN & RAI come together to bolster diversity & inclusivity in retail
By Retail4Growth Bureau | April 29, 2022
As part of the partnership, TRRAIN & RAI will work together to implement Diversity, Equity, and Inclusion policies with RAI.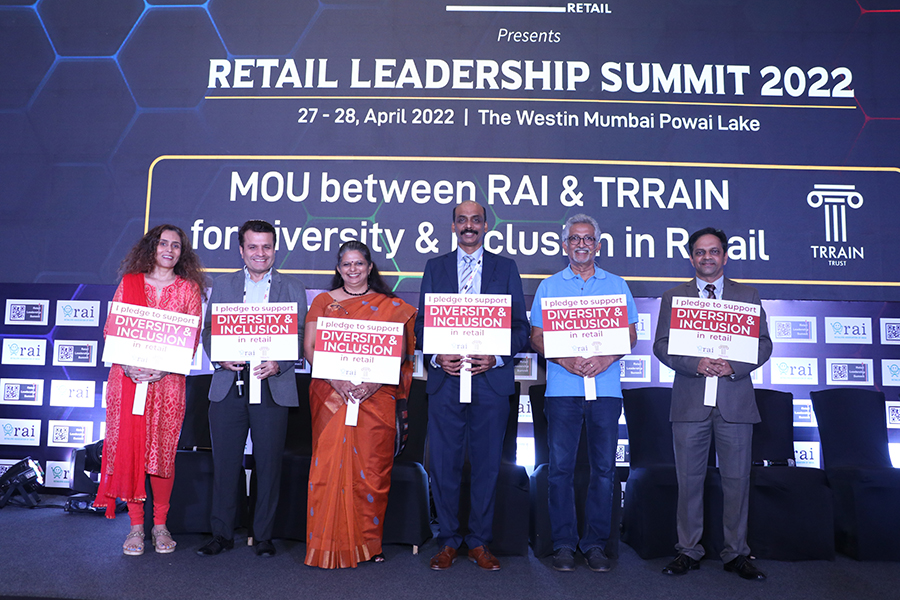 Trust for Retailers & Retail Associates of India (TRRAIN), a public charitable trust, and Retailers Association of India (RAI) have announced that they have signed an agreement to help make retail a more inclusive industry
As part of the partnership, TRRAIN & RAI will work together to implement Diversity, Equity, and Inclusion policies with retailers registered with the Retailers Association of India (RAI). They will also collaborate on the identification and mapping of job roles at different levels within the industry, appropriate to the type of disability.
Together they will also encourage retail members to offer a greater number of placement and job opportunities for TRRAIN certified Persons with Disability (PwD) candidates at entry and other level jobs over the next 5 years. Using TRRAIN's expertise, RAI will encourage retailers to sensitise employees, create workplaces that are disability-oriented and accessible, and support hiring PwDs.
Speaking about the collaboration and the impact it aims to create, BS Nagesh, Founder, TRRAIN said, "Diversity and Inclusion have become important conversations today. As thought leaders and catalysts, we want to enable retail organisations in their diversity and inclusion journey, particularly with regard to employing Persons with Disabilities (PwD). Since 80% of retail jobs are customer-facing, employing PwDs will lead to creating awareness and sensitization at a large level. And, since retail has low entry barriers with minimum qualification being 10th Grade, there is a huge talent pool to explore and impact."
Kumar Rajagopalan, CEO, RAI said, "India has one store for every 100 citizens making retail one of the top employers employing about 4.5 crore people. The industry is significant not only because of its contribution to the country's GDP and commerce but also because it employs people with various abilities and backgrounds. Study after study demonstrates how crucial diversity and inclusion practices are to a company's success. Thanks to TRRAIN, many RAI member retailers have already embarked on a path of hiring persons with disabilities (PwDs). Considering the recent state of retail, it's time to shift gears and take the industry's Diversity and Inclusivity Quotient to the next level. It will not only give PwDs a good chance at employment in retail and thereby support themselves and their families but also contribute towards the progress of retail as an industry."
Signed during the Retail Leadership Summit 2022, RAI's flagship event, with pledges and support of CEOs and CHROs from retailers such as Nexus Malls, Inorbit Malls, Vishal Mega Mart, and Reliance Retail, the partnership aims to make a difference in the industry by fostering diversity and inclusion and making retail a more attractive employer to all factions of the society.