US-based Dole Food Co joins hands with Future group to cater to Indian Markets
By Mohit Manghani | November 14, 2019
Dole Packaged Foods, one of the world's largest producers and marketers of high-quality fresh and packaged fruit-based products, has entered into a distribution partnership with Future Group to expand its presence in India.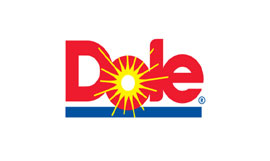 Dole, the US agri-multinational, and Future Group, India's leading retail entity today announced a strategic distribution partnership agreement to introduce and expand the Dole brand's presence in India.

Commenting on the partnership, the global President for Dole Packaged Business, Pier Luigi Sigismondi said, "We are excited to bring this mission to India with nutritious products that will enrich the Indian consumer lifestyles and culinary choices. We could not have asked for a better partner than Future Group on this journey"

Dole will set up two facilities in India within a year and will initially import tropical fruits and fruit-based beverages from other Southeast Asian countries for launch.

"We are going to be focusing on kids, mothers and young adults in three categories - healthy meals, healthy snacks, and healthy beverages. We are planning to launch new products by the end of this year and are still developing our portfolio in detail. Our products will have no artificial sweets, no artificial flavors and will be 100% natural", said Dole Foods global president Pier Luigi Sigismondi.
With a clear mission to make Nutrition and Wellness accessible to as many people around the world as possible, Dole is on a journey to bring healthy nutrition choices closer to consumers.