VM Head and E-commerce Styling Manager of Vero Moda - BESTSELLER India to host VM Challenge at ISA 2019
By Retail4Growth Team | February 18, 2019
Nuno Rosa, Head of VM and E-commerce Styling Manager at Vero Moda – BESTSELLER India, will host the VM Challenge at ISA 2019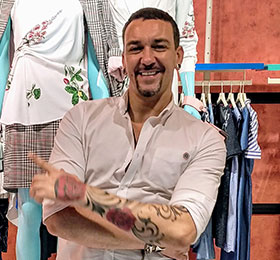 Nuno Rosa, Head of VM and E-commerce Styling Manager at Vero Moda – BESTSELLER India, will host the much anticipated VM Challenge at In-Store Asia 2019 (now a part of EuroShop Düsseldorf, the world's #1 retail fair), the largest retail experience expo and convention in the Indian subcontinent. The upcoming edition of the event is scheduled to be held during March 14-16, 2019, at Bombay Exhibition Centre, Goregaon, Mumbai.
Nuno Rosa, a Portuguese by nationality, is a senior creative visual merchandising professional with more than 25 years of global experience in the fashion, luxury gifts, leather goods and travel retail accessories segments. He has been involved with iconic brands across different markets including London, Mexico, Dubai, India and Portugal (including both Island of Azores and Madeira). Nuno Rosa's passion for his work has seen him drive sales performance and support the DNA of many brands.
Nuno is also a social media influencer in the world of visual merchandisng with his Facebook page, FASHION VISUAL MERCHANDISING, which has about 6200 followers .