VM&RD Awards 2014: A juxtaposition of aesthetics and functionality
By Nabamita Chatterjee | Vjmedia Works | February 03, 2014
The 7th edition of VM&RD Awards held at The Westin in Mumbai on January 30, 2014, was yet another successful tribute to the best in retail design and visual merchandising.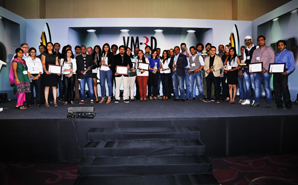 Today with the transformation of Indian retail market, providing an overall experience to the customers has become the prime objective of all the brands. VM&RD (Visual Merchandising and Retail Design) Magazine yet again celebrated the triumph of Indian design fraternity for creating innovative space through the 7th edition of VM&RD Awards held at The Westin, Mumbai on 30th January 2014. The night was studded with glamour, passion and innovative thoughts coming together from people of different fields, like successful Designers, Visual Merchandisers, Architects, Service Providers and Suppliers. Started in the year 2007, this year the event was organised autonomously and not as a part of In-store Asia event for the first time.
A tough and neck to neck fight was observed among all the nineteen categories, especially the Western Fashion Apparel Speciality Store, Best Window Display, Best Lighting & Best Visual Merchandising categories. Of the above, the Western Apparel Fashion Specialty Store category was incorporated for the first time in the Award Panel.
A total of 52 Awards were presented during the evening which included 25 Gold and 27 Merit winners. The top winners were Four Dimensions Retail Design India which won 9 Awards and Fitch India, which bagged 4 Awards. The balance 39 Awards was evenly Won by 30 other contestants. Among the brands, the major winners have been Spencer's Retail, Shoppers Stop, Nike and Allen Solly. The other interesting nominations were the Taragram Store entries sent by 02June Design Studio won the Gold award for Best Visual Merchandising and Green Initiative Categories.
The Store of the Year award went to Ratnsorb - Architecture and Design for Tata Motors Showroom for Concorde Motors.
To make the evening more enjoyable and fun-filled, the third edition of the VM Challenge was organised comprising six teams with one team leader and five members each who were given the task to ideate and conceptualise a window display within a specified time abiding by the given brief. They of course took to it with gusto and a lot of excitement.
The VM&RD Retail Design Awards is the sole platform created to acknowledge the diligent effort of the people who work behind the scene to keep pace with the global retail environments in India. The popularity of this award has been growing year by year which is proved from the overwhelming response and the number of entries received each year.
For more details you can visit : www.instoreasia.org/winners_2014.html