Walmart sharpens India focus again
By Jim Hollen | Vjmedia Works | December 22, 2014
Gets ready to open store, in Agra, after two-year break; global head comes next month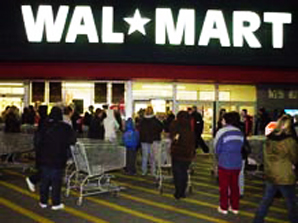 Ending a two-year wait, Walmart, the $476-billion American supermarket chain, largest retailer in the world by revenue, is readying plans to open its 21st store in India.
The latest cash-and-carry or wholesale outlet, for selling products from grocery to apparel and consumer electronics to businesses, offices and organisations, is coming up in Agra by the middle of 2015, it is learnt.
This will be Walmart's second store in Agra, converting what not-so-long-ago was operated by its French rival, Carrefour, the second largest retailer in the world. The latter chain shut its India operation recently due to mounting losses and unviable business.
"We have recently received all internal approvals for opening a new store in Agra. Our team is working towards procuring all relevant licences and permits," said Rajneesh Kumar, vice-president corporate affairs, Walmart India.
It had previously opened a store in 2012, after which the group had to stop business expansion due to an internal probe under the Foreign Corrupt Practices Act in the US. Walmart also broke last year with its India partner, Bharti Enterprises, bringing all expansion plans to a halt. In fact, its Asia head, Scott Price, had in 2013 famously said, "Frankly, FDI has passed'', indicating the Indian rules to attract foreign direct investment in multi-brand retailing were too tough.
Now, perhaps to convey a positive mood around the India market, Walmart's international president, David Cheesewright, is slated to visit the country in January, around the time US President Barack Obama will be here as chief guest at the Republic Day ceremony. The company was not forthcoming on whether Cheesewright, during his first visit as the international head, would make any big announcement. "For us, India is a long-term commitment," said the company spokesperson.
The wholesale business, called Best Price Modern Wholesale, had previously opened a store at the end of 2012 in Bhopal, where it has two outlets of a total of 20 across nine states.
Most large international retailers have so far entered only the cash-and-carry category in India for its easier rules. Among other things, 100 per cent FDI is allowed in this segment. While Walmart tied up 50-50 with Bharti for cash and carry till it broke the partnership recently, Metro and Carrefour entered the category on their own. UK's Tesco recently became the first global retailer to announce its entry into multi-brand front-end retailing, in partnership with the Tata group. Tesco's proposal to invest $100 million to open stores across Maharashtra and Karnataka was approved by the previous Congress-led central government.
The first FDI application in multi-brand retailing (from Tesco) came almost two years after the Congress-led government permitted 51 per cent FDI in a multi-brand regime. Several policy riders such as 30 per cent mandatory sourcing from Indian small and medium scale enterprises and specified investment in the front-end and back-end kept big foreign retailers away.
Now, however, the current central government, run by the Bharatiya Janata Party-led National Democratic Alliance, is opposed completely to foreign investment in multi-brand retailing. However, the government has also said it would not withdraw the clearances granted earlier, while it would not clear any new applications. It says domestic kirana or neighbourhood stores will lose their business once foreign retail grows in India.
Ahead
In this scenario, international majors such as Walmart are ensuring they have a foothold in India through cash-and-carry, while waiting for easier rules in multi-brand, their real interest. Expressing that sentiment, Walmart's Price had said earlier this year that the company would open 50 cash and carry stores in India in three to four years. This was soon after he had said Indian FDI rules were not working for the group, ahead of the parting of ways between Walmart and Bharti, a partnership that was supposed to have opened supermarket stores across the country.
With multi-brand hopes still far, e-commerce is another area that holds promise for Walmart. It competes with Amazon in the US and some other markets in the segment and is expanding its online B2B (business to business). Having started with Hyderabad and Lucknow, the group plans to extend its e-commerce initiative to all its centres next year, say company officials. It will have to wait before entering the B2C (selling to people in general rather than to businesses only) segment, as the rules on e-commerce in India do not allow FDI here. It could, however, enter B2C e-commerce through the marketplace model (hosting traders on its site), a format followed by Amazon and others in India.
Walmart, the $476-billion American supermarket chain, had previously opened a store in 2012
After that, the group had to stop expansion due to an internal inquiry under the Foreign Corrupt Practices Act in the US
Last year, Walmart broke ties with its India partner, Bharti Enterprises
Now, Walmart's international president, David Cheeseworth, is slated to visit the country in January