Walmart to open 50 wholesale stores in India over 4-5 yrs
By Jim Hollen | Vjmedia Works | April 09, 2014
Asia head Scott Price says the company will also initiate its Indian e-commerce business this summer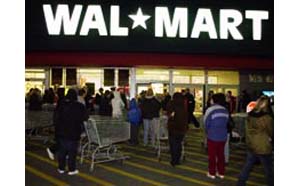 A day after the Bharatiya Janata Party's (BJP's) election manifesto opposed foreign direct investment (FDI) in multi-brand retail, Walmart's Asia head has suggested the American retail giant plans to open another 50 cash-and-carry, or wholesale, stores in India over the next four-five years. Price said this to Business Standard in a telephone interview from Hong Kong but refused to disclose whether any store would be opened this year.

At present, the Bentonville, Arkansas-headquartered chain has 20 cash-and-carry stores in India — the last was opened in Bhopal towards the end of 2012.

The firm would also initiate its Indian e-commerce business this summer, Price said. To begin with, Walmart will get into B2B (business-to-business) e-commerce, catering to kirana stores through cash-and-carry outlets: "The pilot for the first one will start this summer."

With e-commerce now becoming a primary focus for the company in the US and other markets, it has serious online plans for India as well. Besides B2B, marketplace e-commerce is also a viable option. But Walmart had not decided on that yet, Price said. Marketplace is about many retailers being hosted on one site — companies such as Amazon, eBay, Flipkart and Snapdeal all follow the marketplace model in India, primarily because there's no bar on FDI through that route.

Walmart, however, is keen on an inventory-based e-commerce model, an area in which India has not permitted FDI so far. Price said there were indications "the government is talking on those lines", referring to FDI in e-commerce. The inventory-based one is a traditional e-commerce model followed globally by companies with control over products, supply and delivery.

Over the past two years, Walmart has endured several controversies, including a break-up with Indian partner Bharti, as well as investigations into internal practices to see if there were violations under the Foreign Corrupt Practices Act (FCPA).

According to Price, who had last year said FDI in multi-brand retail was not feasible in India because of tough conditions, such as 30 per cent mandatory sourcing from Indian small and medium enterprises, on Tuesday said the break-up with Bharti was only for pragmatic reasons.

Despite these ups and downs, according to Price, the company has never thought of exiting the Indian market. It is optimistic about India and will focus on cash-and-carry till policies governing multi-brand retail are eased. Price said the company had exited some markets for commercial reasons but never because it faced regulatory hurdles.