We'll look at all levers on pricing: Sanjiv Meht
By Marthy Barmejo | July 19, 2016
Interview with MD & CEO, HUL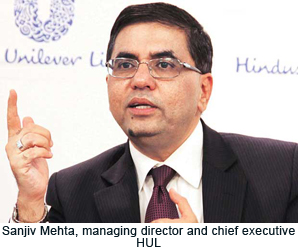 Hindustan Unilever (HUL) reported a mixed set of numbers for the three months ended June 2016. In a media interaction following the announcement of its results on Monday, Sanjiv Mehta, managing director and chief executive, explains the way forward for the company. Edited excerpts:
What is your outlook for the fast-moving consumer goods market?
At an overall level, from four-five per cent two years ago, volume growth has fallen to the negative levels in the June quarter. We have grown ahead of the market at four per cent. Clearly, good rainfall should augur well. But, it will be too early to see the impact just yet. The impact of rainfall on farm incomes will show up with a lag. We could in the near-term see muted volume growth since demand pick-up is not robust. At the same time, commodity prices are inching up. So, there are inflationary pressures to deal with as well. This will impact pricing.
Which are the areas in particular that have felt slowdown pangs?
Mass products and general trade have seen the biggest impact. It has been both in urban and rural areas. Wherever the drought has been severe like in greater Maharashtra and parts of north India, the slowdown heat has been felt on the demand for FMCG products.
What is your strategy in the midst of all this? Will you look at price-led or volume-led growth?
The whole idea on (product) pricing is to not look at it purely from a commodity inflation lens. We have to look at all factors - our portfolio, products within every segment, the price pyramid it straddles, etc. Pricing is a factor. We'll look at all levers when it comes to pricing.
What helped you get the four per cent volume growth this quarter?
Our naturals portfolio is doing well, but the base is small at the moment. Modern trade as a channel and premiumisation as a strategy worked for us. Our core business also fired for us. All of this contributed to volume growth.
Is the pressure of focusing on the core growing for HUL, given the slowdown pangs in the sector? You've been consistently getting out of non-core businesses over the past few quarters. Exiting the Kimberly Clarke JV is the latest. In the past, you sold Modern Foods and your rice business. Why the haste?
HUL has been exiting non-core businesses for some time now. It is not a new strategy. We are clear it is better to focus our attention on the core business rather than be distracted by small non-crore endeavours. The Kimberly Clarke JV is a small part of our business at Rs 250 crore in sales. While we value our JV partner, we took a call of exiting the business. India was the last market where Kimberly Clarke and Unilever had a JV going. Unilever had exited JVs with Kimberly Clarke in other markets earlier. What we have announced now is our intent to divest our 50 per cent stake to our JV partner. We also distribute the products made under the JV. We will proceed appropriately on this.
Why did you bring down ad spends in the June quarter when rivals such as Patanjali have been promoting their products aggressively?
Advertising and sales promotion expenditure is based on our activities in the quarter. We have also been making significant investment in non-television media such as digital and mobile. There are times when you make a big burst (on advertising and marketing) and then optimise expenditure. So our spends are linked to a number of variables.
By when will the new plant in Assam come up?
We have announced our intent of setting up a new plant in the vicinity of our existing manufacturing unit at Doom Dooma in Assam. The investment will be around Rs 1,000 crore and is subject to necessary approvals. We hope to get it at the earliest. If we do get all necessary approvals, our intention is to commission the new plant by early 2017.