With food parks, is Biyani biting off more than he can chew?
Vjmedia Works | October 16, 2014
Taking control of manufacturing will help boost profits for the food business, but it could leave the group saddled with huge debt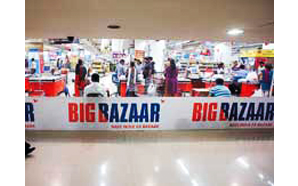 Kishore Biyani is setting up three food parks: one each in Karnataka (it was inaugurated recently), Madhya Pradesh and West Bengal. These parks will process and package food products which Biyani will sell through his various retail chains under his in-house brands. Biyani says this will plug a critical gap in his supply chain. "We run one of the most modern distribution centres in the country. We have one of the best express fleets. We are in the process of acquiring a cold-chain logistics provider. We already own retail stores. What was left was getting our manufacturing in place. The food parks are a step in that direction," says the Marwari businessman who has often been described as the country's retail king.
Packaged food is a growing business. According to industry estimates, the Indian packaged food market is worth $39.7 billion (Rs 2,38,200 crore) and is expected to reach $65.41 billion (Rs 3,92,460 crore) by 2020. But, like many other product categories, it is highly competitive.
Thus, retailers work with wafer-thin profit margins. This has hobbled the profitability of all retailers, Biyani included. The only way margins can be improved is by having control of manufacturing. This is where his food parks fit in. AK Prabhakar, a Mumbai-based independent retail analyst, says this could be a smart move from Biyani because food is a good bet and the sector is relatively untouched by the price warriors of e-commerce.
Biyani's target is ambitious. The 53-year-old wants his food - and FMCG - business to be worth Rs 20,000 crore in seven years. "A few years ago, I said that we would do Rs 1,000 crore in our food business, which we have done now," says he. "I don't see why we can't achieve what we have set out to do."
In the food parks, Biyani wants to set up key processing units. The Karnataka food park, for instance, will have a flour mill, rice mill, pasta plant, spice plant, paste factory and a bakery unit. The 110-acre park will cost Biyani Rs 1,000 crore on completion. Biyani has already invested Rs 200 crore into it. He claims he has enough cash and investments in Future Consumer Enterprises, the company that is pushing his food and FMCG interests, to set up the three food parks. And if that is not enough, Biyani claims that he has investors willing to back him in his new venture. "I already have very good investors in Future Consumer Enterprises. We have a 10 per cent stake from Arisaig Partners, a Singapore-based investment firm, and another 10 per cent from a family in Belgium. There are a number of other investors who want to take a stake. I do not see a problem of investments," he says.
Going the retail way
Some fear that Biyani may leverage the balance sheet of Future Consumer Enterprises to finance his food parks. This could burden the business with debt - much like it happened to his core retail enterprise. The latter still has Rs 6,200 crore of debt, despite the restructuring that Biyani has undertaken in the last few years. Biyani refuses to be drawn into a discussion on this topic.
How robust is Biyani's front-end to keep the parks going? Biyani has eight in-house brands including Tasty Treat, Premium Harvest and Fresh & Pure operating in the processed foods, branded commodities and dairy segments, respectively. In addition, Future group's food arm, Future Consumer Enterprises, caters to local tastes of a region. Also in his portfolio are brands like Karmiq, So Fresh and Veg Affair. Each of these has its own range. Veg Affair will be ready-to-eat frozen vegetables, including peas and carrots. Karmiq is for canola oil and other such products as well as dry fruits. So Fresh will be bread, fruits and vegetables. At the moment, Biyani says 25 per cent of his food sales come from his own brands; he wants to raise it to 50 per cent by 2018.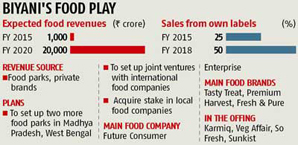 For products such as chocolates, biscuits and beverages, he is looking at joint ventures. He is also open to taking equity stakes in companies which can give him the manufacturing capability he is seeking. "We took a stake in a company called Baker's Street which is into rusks and breads," he says.
Products made at the food parks will be sold through Future Group's retail formats such as Big Bazaar, Food Bazaar, Foodhall, KB's Fairprice, Big Apple and Aadhaar. Biyani also expects 20-30 per cent of the produce from his parks to be exported and he says his group is in discussions with global players in that regard. By the looks of it, Biyani is banking on his neighbourhood store format, KB's Fair Price, to absorb a major chunk of the produce from his food parks. He wishes to set up 5,000 such outlets by 2020 in 20 cities. "The food parks are my rasoi for my front-end business," Biyani says. He is also gearing up for the launch of new products under his own labels as well as those licenced to him by international majors.
Experts says Biyani is biting off more than he can chew. Says Arvind Singhal, chairman of Technopak Advisors: "While there is some synergy between his retail formats and food business, whether it will work or not is something that only time will tell." A CEO of a Bangalore-based retail chain says Future Group has done a great job in apparel, but that is no guarantee the strategy will work in food as well. "I think it is better for it to focus on what it is good at, instead of trying out different things," he says. Biyani has acknowledged in the past that he ventured into too many unrelated areas such as insurance and financial services and then had to liquidate his interest in order to reduce debt and focus on his core business. For now, he says he is busy chasing his food dreams.