Zara parent replaces India head with deputy MD
By Chaitanya Muppala | Vjmedia Works | April 10, 2017
Inditex was reportedly not happy with the recent real estate deals of the Indian unit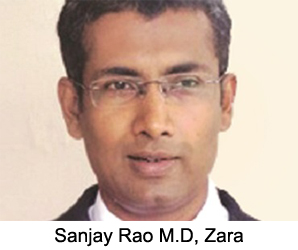 Inditex, the parent of fast fashion chain Zara, has replaced the managing director of its Indian unit Sanjay Rao with Deputy Managing Director Ashish Dash, said sources.

Rao was asked to leave Inditex India recently and Dash would function as interim managing director, they said. Rao was at the helm of Inditex India for almost seven years. "Most likely, they will bring a senior executive from one of their overseas market as managing director of the Indian unit," said the source.

Inditex was reportedly not happy with the recent real estate deals of the Indian unit. However, this claim could not be independently verified. A mail sent to Inditex spokesperson on Saturday did not elicit any response.

While Dash is based in Mumbai, Rao was based out of NCR.

Inditex operates as a joint venture in the country with Tata-owned Trent. However, the operations are handled by Inditex and Zara is just a financial investor in the joint venture.

The change in top management in Zara comes at a time when its own growth is tapering and it is facing intense competition from the likes of H&M and Forever 21. Another Asian rival, Uniqlo, has also booked properties in Indian malls.

Inditex Trent clocked a 17 per cent sales growth to Rs 842.5 crore during FY16, one of its lowest growth since opening stores here.

Inditex, which entered the Indian market in 2010, operates 21 stores here. Inditex also has a separate JV for its Massimo Dutti brand with Trent which has opened a couple of stores here. Recently, Inditex said it would sell its merchandise online in the country. Swedish chain H&M, which opened much later in 2015, has opened 14 stores in the country. H&M has opened stores close to Zara stores in

H&M's Indian unit posted sales of Rs 194 crore during the year ended March 2016 and a net profit of Rs 1.4 crore.