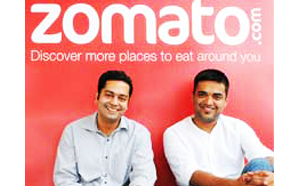 Taking a step towards foraying into online food ordering, Gurgaon-based restaurant listing and reviews platform Zomato has acquired MaplePOS, a cloud-based point-of-sale (POS) product for restaurants, for an undisclosed amount.
MaplePOS has since been renamed Zomato Base. The POS system offers menu and inventory management for restaurants, and has a built-in payment solution to accept debit and credit card payments.
The acquisition will help Zomato as consumer data from the POS product will strengthen its presence in the market.
Deepinder Goyal, founder and CEO, Zomato, said: "Zomato is the only food-tech company in the world which is building products for consumers as well as restaurant owners. There is a lot that can be done if we're able to build a technology platform that connects consumers to restaurants and vice-versa, and a world-class cloud-based POS system is the first step towards building that platform."
MapleGraph, the company which developed MaplePOS, was founded in 2011 by Arun Tangri, Varun Tangri, and Abhishek Rohilla. Arun, co-founder and chief executive officer (CEO) of MapleGraph, said: "We are excited to partner with Zomato to realise our dream of building the best and most widely adopted restaurant point of sale system in the world. Technology has seen very little penetration in the restaurant industry, and we are excited to be driving this change at large scale."
Zomato will work on integrating the POS product's services with the consumer product over the next few months. After the integration, Zomato will start offering Zomato Base to restaurant businesses across the world this fall.