Zoya launches third store in Mumbai
By VJ Media Bureau | Vjmedia Works | May 23, 2014
Zoya is a product and retail brand targeting the discerning, aspirational woman
Zoya, a line of luxury jewellery boutiques that caters to the fine taste of the upper-class customer, has recently launched its third store in Mumbai. Spread over 5,800 sq. ft of premium property in the posh shopping district of Linking Road, Zoya - belonging to the Tata group -- is both a product and retail brand targeting the discerning, aspirational woman.
The store showcases luxury in its most undiluted form and deals in exquisite styled jewellery, primarily diamonds, apart from the traditional and fusion Polki and Kundan jewellery. The retail design concept for Zoya was provided by Fitch in 2009 and the brand is taking it forward by adding certain home grown elements incorporated by its own team for the brand's flagship stores. The exclusive retail section of the store has two levels - the ground floor and a part of the first level showcases an exquisite diamond range and the other part has Kundan, Minakari and similar collections.
Commenting on the store launch, Arif Padiath - Business Head - Zoya, said: "As we wanted to cater to a large populace of the Bandra and Juhu areas, this location is a perfect match for it. Zoya is the only corporate luxury brand in the jewellery segment and one that launches a seasonal collection each quarter. With the store launch, our latest collection Fire pays tribute to nature's most brilliant element with a magnificent array of jewellery, embellished with radiant sapphires, radiant gold and exquisite diamonds."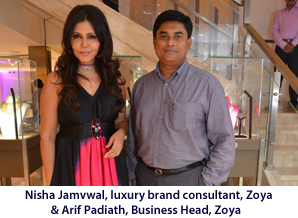 "All our jewellery are crafted by exclusive designers who work for Zoya and all of them are limited editions. As a shopper connect initiative, our customers can make an appointment with our designers and share their own thoughts on the product they want to order and such customisations are taken care off by Zoya," he said.
Nisha Jamvwal, Zoya's luxury brand consultant, said, "Fire is one of Zoya's most evocative collection. It draws inspiration from the power that dwells in a spark and yet torrents through the very heart of the earth; a flame can light the darkest corners of the universe and the fury of fire has forged some of the most spectacular treasures the world has ever seen. With fine craftsmanship and exquisite stones, the poetry and symbolism of this collection attract me. "
Along with two showrooms in Mumbai Zoya also has a flagship store in Delhi.