IOS of Retail Engagement
By Elke Moebius | Vjmedia Works | August 24, 2015
Scala, a Bangalore-based tech firm shares a few of its concepts which have the power of having customers experience shopping in a whole new dimension.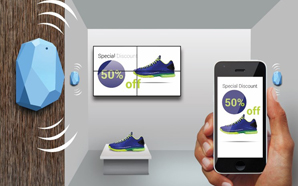 Technology is taking the retail world by a storm where highly modern and innovative devices are conquering the perception of what retail experiences account for today. Scala, a Bangalore-based tech firm shares a few of its concepts which have the power of having customers experience shopping in a whole new dimension.
i Beacon
It is a palm sized stone-like hardware fitted at strategic locations. Beacons are bluetooth devices that broadcast to your latest iOS to let them know the beacons are nearby. Some of their applications include sending a notification as you arrive, making a dramatic entrance as the track "Eye of the Tiger" plays when you walk in (to the digital screen placed) and offer messages to the phone. 

Store Setup in a common mall lobby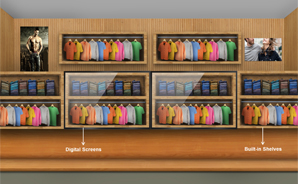 In a mall setup, 84" Interactive Multi-touch Screen with customized content reflecting the products can be promoted. Three or four screens can be set-up to give it a complete store look. Physical products can also be arranged in hangers / shelf for aesthetics. The sheer size available for this display will leave customers awestruck.
Fling
Fling is an innovative application in the digital solutions' domain, this is more of a sales aid. The application consists of one or multiple digital signage screens on the wall, and a product browser app on a tablet. The user is able to "throw" content from the tablet onto the larger screens by swiping the tablet content upwards.
The content that was playing on the tablet can either play immediately on the larger screen, or it could trigger an entire custom playlist. If the former, the content can then in turn be pulled back onto the tablet. The larger screens will then return to it's "attract loop" when done playing the content that was flung from the tablet.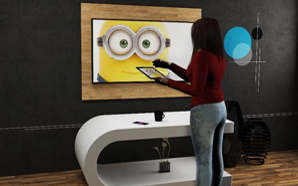 I- mirror


More technologies are brought to our attention that will optimize things and save us time. The iMirror is one of those technologies that could (if it is finalized), become a huge optimization in the retail space.
• In a high-end cosmetic salon, one can try creams or lipsticks as you see the product description and details.
• In a gym, a person can view the amount of calorie burnt, time and health info as you look into a mirror exercising.
• At a Sunglass Store, the shopper can try eyewear and know more about it, without any assisted salesperson.
Wayfinder
This solution gathers all location details into one database with 2D plans of each site. Users can then choose the desired centre from the list and see what they have to offer. For the shopping centres, this simple administration allows them to easily change tenant information, ensuring the maps are always up-to-date.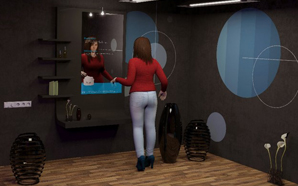 Wayfinding Kiosk Features:
• 2D map
• Fast search engine
• Pinch zoom and rotate the 2D floor plan
• "You are here" spot - indicates user`s current location
• Graphical route animation
• Multilingual
• Different types of advertisements - banner ads, highlighted directory items, small pop-up banners in 3D map
• Content Management System (CMS) for remote management
• Custom user interface
• Multiple integrations are possible - social networks, timetables, clock, weather, transportation, websites, campaigns and others.