Rollover Flatbed Applicator
By Dipanjan Mukherjee | Vjmedia Works | 3 | May 29, 2013
Regardless of media type such as self-adhesive foil applications, road signs, glass application, banners etc. up to 90mm in thickness, the Rollover flatbed applicator ensures perfect result with minimum time.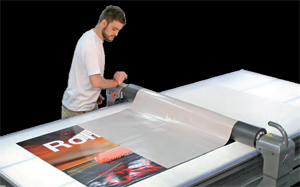 The innovative Rollover Flatbed Applicator is a better way of solving the daily challenges of the sign making industry with excellent functionality that is powered by the idea of facilitating and streamlining the multiple tasks encountered in the daily work of signmakers. Optimal ergonomic work positions have been the basis for the design. Being able to comfortably operate the laminator with one hand whilst having free access to roller, media and tabletop, results in smooth and effective handling. Also the applicator ensures that waste is minimised.
Illuminated glass tabletop and special cutting mat will improve accuracy and control in operation, and also make the Rollover a perfect work place for many other tasks of the trade. The Rollover is extremely user-friendly, and the operator can learn how to use it in less than one hour, thanks to the detailed Manual supplied on delivery. Flexible extra media-holders and side trays facilitate numerous applications and handling of oversize media. The gap between roller and tabletop accommodates different substrate 90mm thickness.
Areas of use
The Rollover Flatbed applicator has several areas of use such as, rigid panel application, application on glass and acrylic substrates, application tape wind up, Laminating digital prints, assembly of oversize media and the Rollover as a work station that has its back-lit work area as well.
Advantages
The Rollover Flatbed could be your best option while taken into consideration its various advantages like its free access to the roller. The patented design with no gliding beam above the roller accommodates in an unobstructed manner all sorts of laminating. Easy one-hand operation by using the ergonomically shaped and inward-facing handles allows the roller to move easily over the tabletop both in a raised and lowered position. The applicator also comes with a protected activation button.
Its other advantageous features are:
Solid, illuminated work station

Flexible media holders

Special media holders for application tape

Bilateral feeding trays that provide space for tools and rolls of oversize media

Larger and optimized.