Adidas Originals – Built for rough terrains
By Satarupa Chakraborty | May 22, 2018
Executed at all Adidas Originals stores, the recent window and in-store VM scheme uses four elements of nature to showcase its Atric collection's capacity to withstand harsh weather conditions
To launch and promote their range of footwear and apparel collection, Atric, Adidas Original's recent window and in-store VM showcases the range's capacity to withstand extreme weather conditions.
In the VM scheme, four key visuals are brought to life on individual plinths, highlighting the extreme weather conditions. "Rain" is depicted by featuring a printed stainless steel diamond floor top and acrylic panels frame; the footwear combines the effect of rain drops with the use of transparent UV-resin on the top and acrylic sides. The embodiment of "fire" is showcased through a printed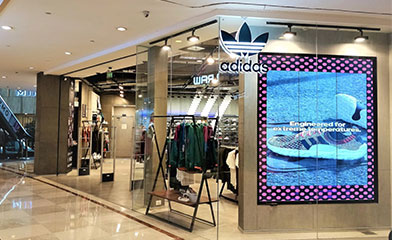 asphalt-textured vinyl with a raised grate drain, which is presented at a particular angle to ensure instant visibility. A red light pulses beneath the drain to represent heat. "Earth" is represented through the floor of a bar or music venue, the top of which features a printed worn floor texture with a speaker, an amp cable, crumpled plastic cup and ring pulls. The element of "wind" is depicted through printed escalator vinyl covered around the top of the steps, where footwear is placed. A white light glows between the steps, subtly fading in and out to simulate the escalator's movement.
Priyesh Bhagat, Head – VM, Adidas Originals India, explained to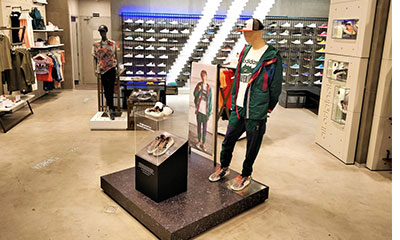 Retail4Growth, "Atric is a technical footwear and apparel, engineered for the outdoors but designed for the street. To showcase the sturdy nature of the merchandises that can withstand harsh weather conditions, we have used plinths of different heights, printed and textured vinyl, along with cohesive branding visuals in 3D cut acrylic"
For North, the campaign has been executed by HG Graphics, KVC Retail Solutions and Metromax Prints, while the stores in western India have been handled by Retail Impact. Omkar Enterprises and Symmbol Digitals executed the campaign at stores in the South while the stores around Eastern India were handled by Maa Regale.