Ather Space: Redefining the scooter buying experience
By Smita Sinha | January 27, 2020
Designed by Delhi-based design company Studio Lotus, the 4000 sq ft Ather Space is a complete guide book to Ather Energy's journey and their milestone products.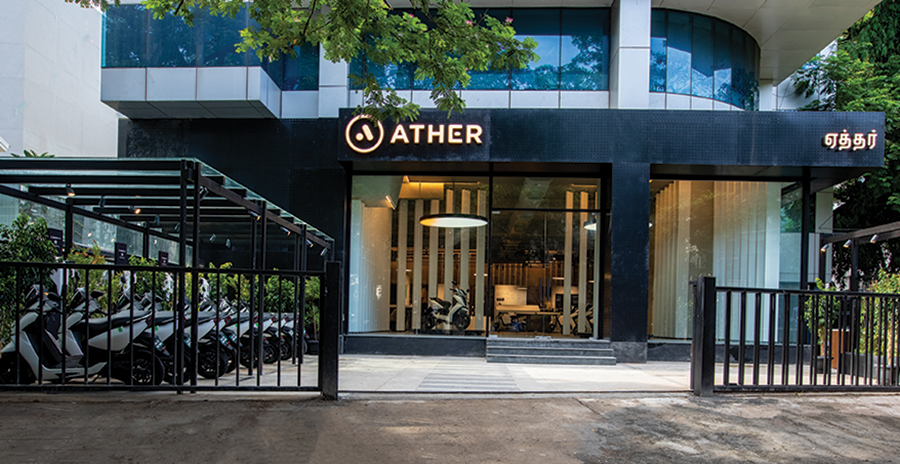 Experiential offering has emerged to be the key differentiator in creating an edge in the competitive market space. But experience today goes beyond physical aesthetics, it is about an immersive engagement enabled both by design and technology. But how does one create an experiential offering in an automotive showroom in a way that combines interactivity and aesthetics in a seamless flow? Bangalore-based electric scooter manufacturer Ather Energy seems to have cracked the answer.
Founded in 2013 by two IIT Madras alumni Tarun Mehta and Swapnil Jain, Ather Energy designs and sells electric scooters for the Indian Market. Rather than having dealership showrooms, the company has gone in for Experience Centers, the first of which, spread across 2000sq ft space was inaugurated in Bangalore last year. The company opened its second one at Wallace Garden Road, Nungambakkam, Chennai in July this year. The 4000 sq ft 'Ather Space' in Chennai is a complete guide book to Ather Energy's journey and their milestones products. The centre's design and user experience has been improved based on Ather's learning from the Bengaluru Ather Space.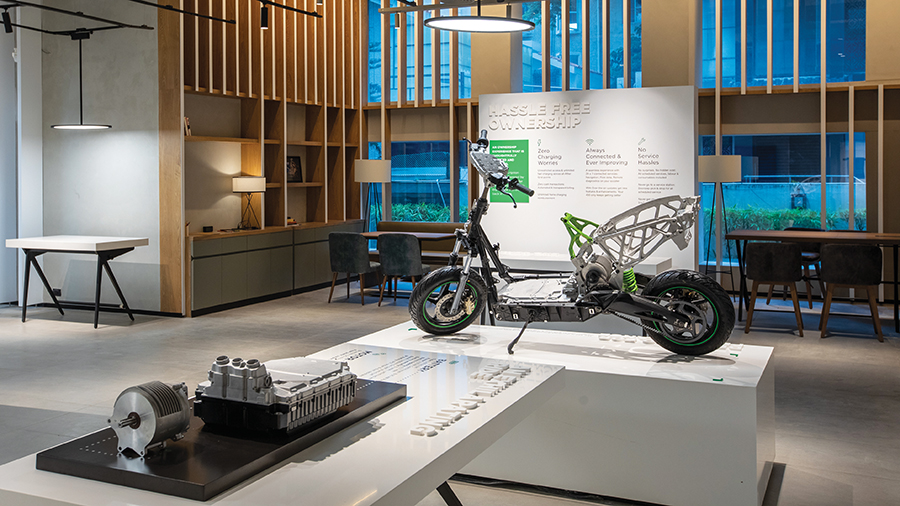 Designed by Delhi-based design company Studio Lotus, the second Experience centre of Ather embodies the brand ethos of innovation and dynamism to create a prime feature space for the Ather 450, their marquee product. The Experience centre double folds itself into space where the customers can educate themselves about every aspect of the vehicle and witness the engineering and mechanical efforts that have gone into manufacturing it through a naked scooter which is placed right at the centre of the store, with the skeletal structure showcasing the spare parts.
Tying together an immersive narrative for the electric automobile with enhanced customer engagement, the design strategy for the Ather Space divides the expansive floor plate into distinct zones – enabling an enriching brand interaction that prioritizes visitor engagement and familiarization with the product over pure sales. Each zone has been designed to facilitate an intimate interface between the visitor and the brand, whether through gallery spaces for the technology behind the product, discussion zones for prospective customers, or initiation areas for first-time users.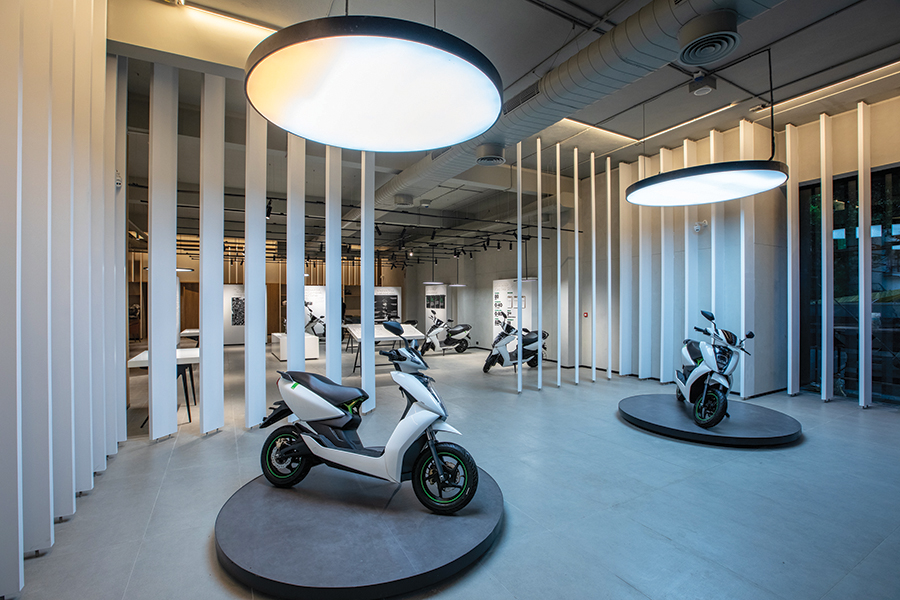 As Ravneet Phokela – Chief Business Officer, Ather Energy points out, "Lot of people equate experience with a good looking retail store, that is not fundamentally true. Experience is about how you provide the interaction at retail, of which the physical look and feel is one part. In our case it is fundamentally around making the brand and the product come to life, it is about educating the customers on EVs and why they make sense today. In fact, everything at the experience centre is optimised around creating awareness in the customer."
Read the detailed report on the design of the Ather Space in January 2020 edition of VM&RD magazine.