Britannia adds nostalgic flavour to World Cup campaign
By Smita Sinha | May 27, 2019
The biscuit major revives the spirit of its 'Britannia Khao World Cup Jao' campaign that debuted in 1999 to build brand buzz ahead of the 2019 World Cup Cricket tournament.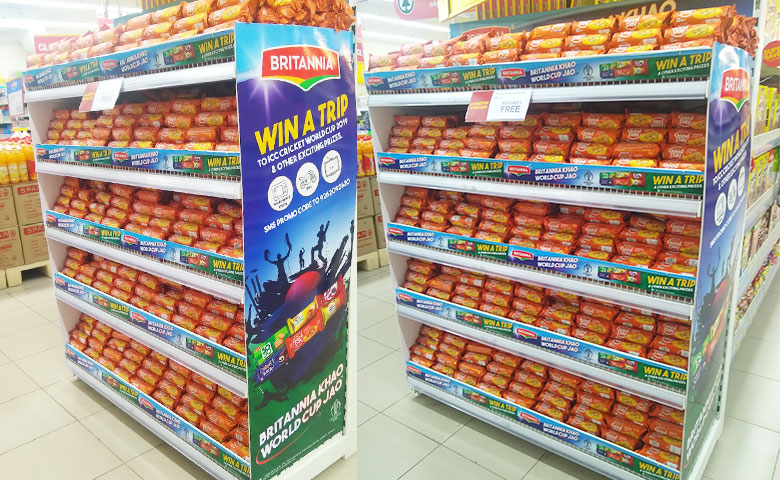 Cashing in on the cricket season and marking the completion of its centenary year, Biscuit major Britannia recently relaunched its 20-year-old 'Britannia Khao World Cup Jao' campaign across India to capture its target audience and build brand buzz. The World Cup campaign that debuted in 1999 has made a comeback for the brand ahead of the 2019 Cricket World Cup to be held in England starting May 30.
The campaign is extended in store with eye catching in-store activations that grab the attention of shoppers with the offer – 'Buy Britannia biscuits and Win A Trip to ICC Cricket World Cup 2019 & other Exciting prizes'.
Customers have to collect 'runs' as mentioned on the packs and consequently win prices. A total of 100 winners will get the chance to win an all-expense-paid trip to watch a live cricket match at the World Cup in England and Wales.
Speaking about the campaign, Aditya Kumar, Head – Modern Trade, Britannia shares with Retail4Growth, "Britannia Khao World Cup Jao which was launched in 1999 has a high recall value and people still remember it. Last August we have completed 100 years and we thought this would be the right time to ride again the same wave again. So, we decide to revive the campaign for this year World Cup. And lot of technology is also being used to roll out the campaign."
Read the full report in Point-Of-Purchase June 2019 edition.
Similar News
Designed and executed by HH Global, this island unit is the highlight of Kurkure Twistkeen's retail presence
Bengaluru-based multi-disciplinary design firm KREO Design has designed and executed a vibrant and colourful kiosk for Rusher's that exudes all that the product stands for – cool, trendy, casual and colourful -- while engaging, exciting and educating the customers on the product pricing and offers.
Shifting their vertical focus from niche lifestyle range, Happily Unmarried is writing a new script in shopper marketing with their men's grooming range, Ustraa. Initially retailing only through online channel, the brand is now focusing on offline, driven by a rich consumer behavior data. Point-of-Purchase catches up with Nikhil Saxena, Product Head -- Ustraa, to learn more about their offline strategies, in-store marketing and the challenges with regard to display vendors.