Cadbury - Uplifting the Sweet Category
By Fairy Dharawat | March 14, 2013
Cadbury highlighted the confectionery category by creating lit shelves in order to increase sales.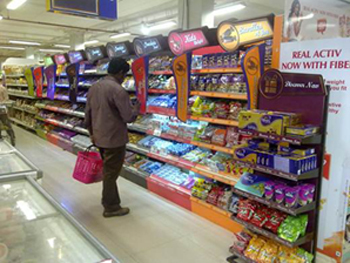 Cadbury India created a lit shelf in retail store to attract shopper attention in the confectionery segment by using colorful designs and push feed front lit shelves for premium looking lines. The design of the category management found in Magnet Hyper Mart was to increase growth of the category. As the lit signs shelf called for action and sought attention from the shopper, there has been a 75% increase in confectionery purchased by the shopper.
The entire aisle was highlighted with the use of colors and was segmented further in categories namely; Fresh Fun, Gifting Pleasure, Premium Indulgence and Chocolate treat. These categories made it simpler for shoppers to browse through the chocolates as the category clearly named whether the chocolates are either for personal consumption, indulgence or for gifting option. This segmentation saves time for the shopper in browsing and focuses more on the buying of the shopper.
Materials used for the shelf were MDF, metal, and Poly carbonate sheets while lights were used for giving a premium feel. A pusher system was used to keep pushing chocolate's to front and face up Shelf in Shelf's making it easier for the shoppers to pick up a chocolate and be on the move.
"Confectionery category is highly impulsive. However, in most stores, it is cluttered with inconsistent planning of the aisles. This results in a low visibility for the category reducing the aisle conversion. Therefore there is ample opportunity to change the environment and influence the shopper's behavior," spokesperson for Cadbury India said.
Any innovation attracts challenges, so in the case of Cadbury, the challenge was to create retailer and customer delights. Cadbury India spokesperson, says that reinventing aisles and retaining the existing fixtures poses a great challenge. Designs should be planned on a long term basis like a modular deployment that can easily be shifted in case the store layouts change with time. Get it right the first time and that's when you create Retailer and Shopper delight.
The lit shelf was deployed in ten retail stores including; in Tesco Star Bazaar, Reliance, Magnet Hyper Mart, Total Hyper mart, and Heritage. With a key communication of making enjoyable shopping experience, the incremental numbers speak for themselves on the positive response the initiative generated.