DBEL Studio - Lighting up Conversations!
By Satarupa Chakraborty | August 04, 2018
Spread across 3600 sq ft in Delhi's very own furniture district, Kirti Nagar, and designed by the city-based Renesa Architecture Design Interiors, DBEL Studio emerges as a conversation space around artistic lighting.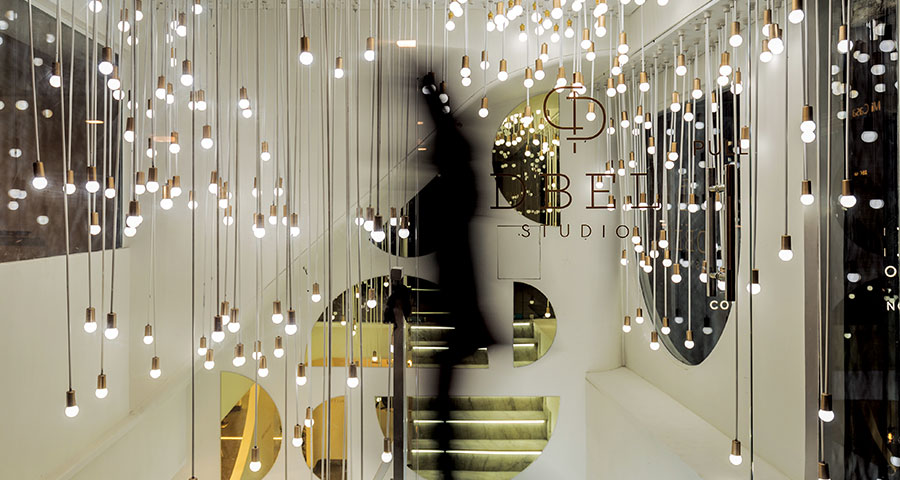 A Gallery Of Conversations
DBEL Studio is an artful curation of luxury lighting solutions, meant to enhance the quality of architectural and design spaces. To give the space a complete look and feel of a gallery, Renesa Architecture Design Interiors put in place an interesting ideation. What emerged is a curation of aesthetics of modern decorative lighting via artistic volumetric punctures and partitioned zones while fusing the cultural essence in arched flowing spaces. A retail store re-imagined as an art gallery – the brand endeavours to highlight the dramatic effect that lighting imparts to a space.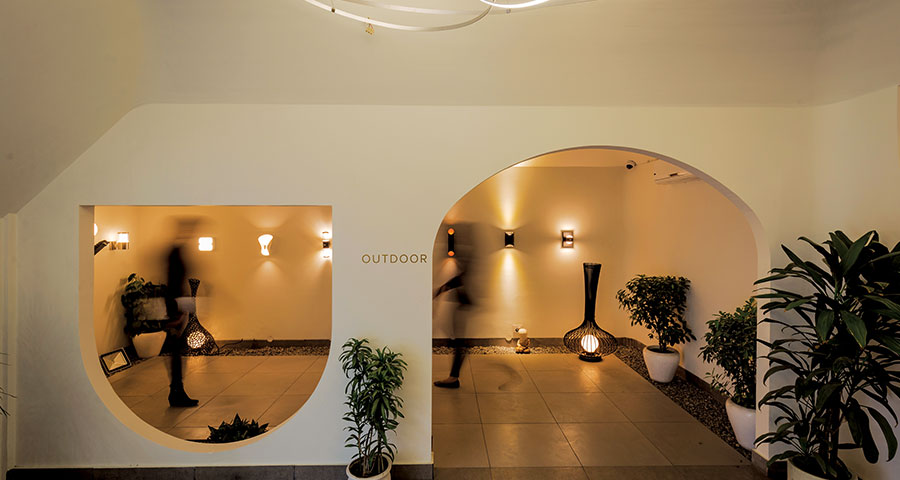 Heavy On Drama, Light On Frills
The light-art gallery works on the central idea of generating points of interest within a minimalist free-flowing space. The ideation of layering the monolithic curves as per the design, function and placement of lights function to conceal the heavy structural elements, as well as to frame a harmonious view of the latest art and lighting design trends that DBEL has to offer.
The studio emulates a blank canvas. Following a palette of white and grey (walls and floor respectively), the exhibition space is minimalist, devoid of clutter, without deviating focus from the light fixtures. The entrance to the gallery is through an opening in the monolithic facade, and arched elements continue all along towards the interior and gently merge into a clean white space for exhibiting the lights as artworks.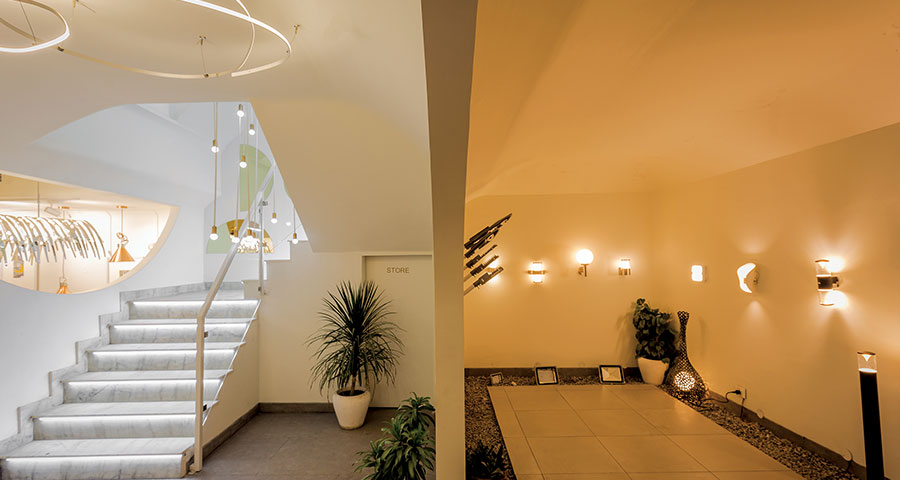 Architectural Escape
The open areas in the gallery offer a wide space for themed lighting exhibition, while the gently curved partitions draw people into the space and guide them naturally further into other galleries. The dissociation among spaces has been achieved only through visual boundaries - punctured walls and floor light stripes divide the space into galleries.
The solid expression of the exterior section continually merges with a carved out interior and increases the sculptural appearance of the interior section of this gallery. Multiple arches altering in size and orientation create a continuous, gentle curve which maintains a rhythm with the paintings exhibited in the background gallery arena.
Within the arches, the entrance sculpture inhabits an information desk, an experiential room and the main circulation staircase, which guides visitors to the basement with a lighting arena gallery and screens the employees' official area on the other hand.
Design
Renesa Architecture Design Interiors, New Delhi
Contractor
Star Construction
Lighting
DBEL Studio/ Tintech Lighting
Photographs
Vibhor Yadav