Dove - Armed to raise
By Fairy Dharawat | January 16, 2013
Hindustan Uniliver's premium brand Dove targeted upwardly affluent females for its'Whitening Deodorant' promotion along with A Comms, the executing team, to create an innovative concept for their recent campaign in retail floors.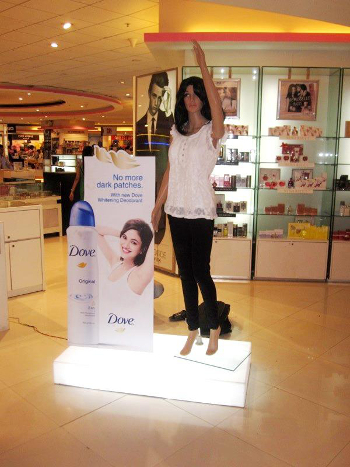 Hindustan Uniliver's premium brand Dove targeted upwardly affluent females for its'Whitening Deodorant' promotion along with A Comms, the executing team, to create an innovative concept for their recent campaign in retail floors.
Dove managed to strike a chord with its women shoppers by connecting with a delicate and sensitive issue that many of them face - dark underarms. With a simple and effective communication designed and executed by A Comms, the campaign managed to create very good brand awareness and connect with the shoppers.
As part of the campaign, a mannequin wearing a white top was set up on a podium in the female western wear sections of Central stores and Shoppers Stop' outlets across the country. It had one arm raised to highlight the'no more dark patches' communication of the deodorant. The podium was lit up and a cut-out of the product and the model was placed next to it. Besides, the same kind of branding was extended to the doors and mirrors of the ladies trial rooms .
"You go sleeveless you go Dove, the message was direct," says Vishakha Singh, Executive Director, A comms, on the message the campaign wanted to communicate. Adding on the same lines, he says, "Dove is a strong premium brand and enjoys a lot of respect which we wanted to project and accentuate in our campaign. We chose the illustration (mannequin with a raised arm) in a manner which was almost direct and self explanatory. Given that there are multiple brands, it becomes imperative to try not to just highlight the deodorant but also the brand strategy which is strong."
The whole set up was accentuated with a lit base and the look of the mannequin was kept consistent across. The clothes were also changed every week to maintain the fresh look of the mannequin. Vinyl was used for all branding in and around the trial rooms.
The campaign was active for a period of 6-8 weeks and saw a favorable response from the shoppers.