Electric aesthetics in an immersive space
By N Jayalakshmi | October 09, 2023
The recently opened 3000 sq. first company-owned experience centre of EV two-wheeler brand Oben Electric, designed by FRDC, is an immersive journey into the world of electric mobility.
EV as a segment promises exciting opportunities to craft technology-led, aesthetically gratifying store experiences, like Oben Electric's recently opened first company-owned experience centre in HSR Layout, Bengaluru. The 3000 sq. ft. facility aims to showcase its flagship electric motorcycle, the Oben Rorr.
FRDC crafted an experiential design for the store, focused on reflecting the brand's identity, the targeted customer's lifestyle and facilitating smooth adoption of electric mobility.
Sanjay Agarwal, Co-Founder & MD, FRDC, explains, talking about the project experience, "Designing an experience centre for Oben Electric called for some extraordinary considerations in automotive retailing. We had to create a retail experience that can amplify the sophistication of technology that the bikes are equipped with, and yet create a customer friendly experience, without an overload of tech and gadgets. Secondly, It was important to stitch customer journey to encapsulate touch points which are sharp and direct. Lastly, the retail store had to be transformed into an impactful launchpad for Oben vehicles. Taking these design drivers into consideration we created a 360 degree brand experience, which is modular and scalable to grow with the brand."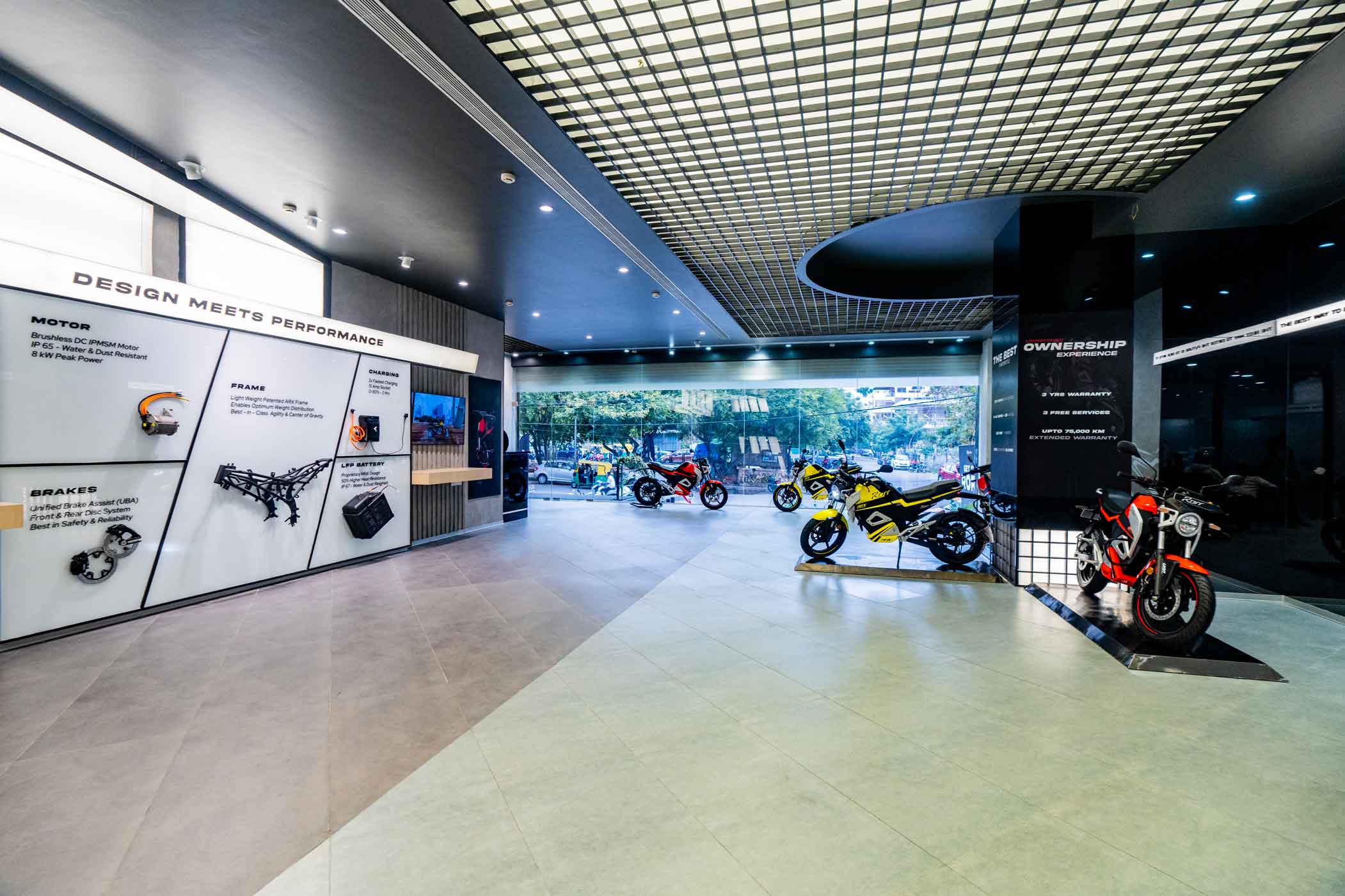 Indeed, the end result is a store space that is at once sporty, youthful, educative & immersive, a space that celebrates the innovative high-speed bikes.
As the design team shares, "It is a space that is magnanimous, yet inviting & relatable."
Facade
Dynamic and impactful, the facade represents speed with its play of LED strip lights running over a dark grey panelling, informs FRDC. The idea was to make the store interior and the Oben Rorr standout. At the entrance, visitors are greeted with an impactful, elevated display that highlights the bike, while directing them to the rest of the store.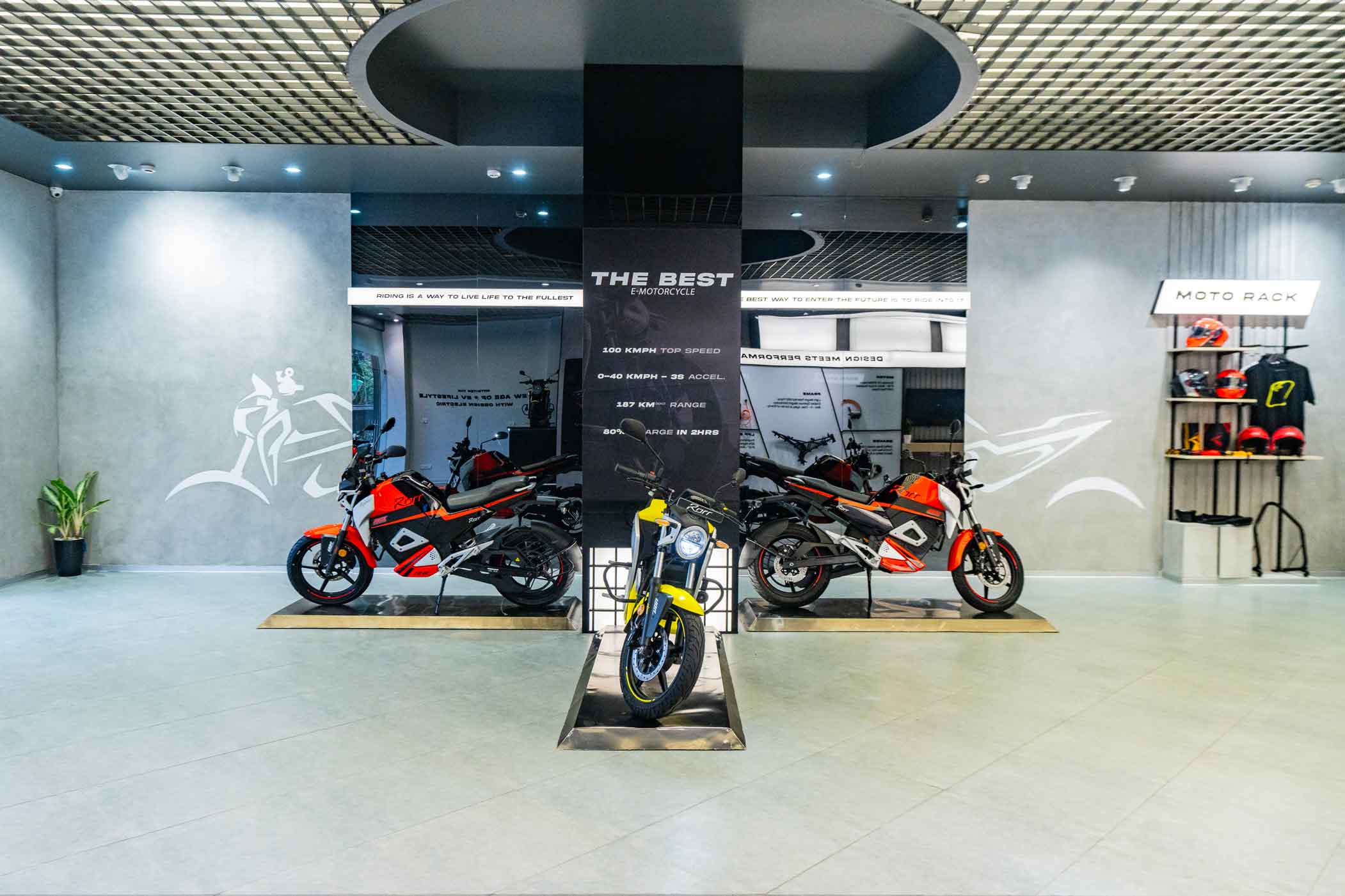 Segmentation
With emphasis on 'Design Meets Performance', the center offers different zones like Moto Live, Moto X, Moto Zen, and Moto Rack for a comprehensive electric two-wheeler experience.
Moto Live: This zone allows customers to engage with the live product, the Oben Rorr, for the first time. At the central bike display area, customers can learn about key details and specifications while experiencing the electric motorcycle up close.
Moto X: With interactive displays and augmented reality combined with deconstructed bike display, this zone allows customers to explore and closely examine the Oben Rorr's key components, both physically and virtually.
Moto Zen: Aimed at facilitating conversations among customers and with the brand, this section offers a dedicated lounge area with a distinct café vibe. It is a space to share stories, experiences, and thoughts on the Oben Rorr and electric mobility.
Moto Rack: This is the final zone which showcases an exclusive range of accessories and merchandise that perfectly complement the Oben Rorr.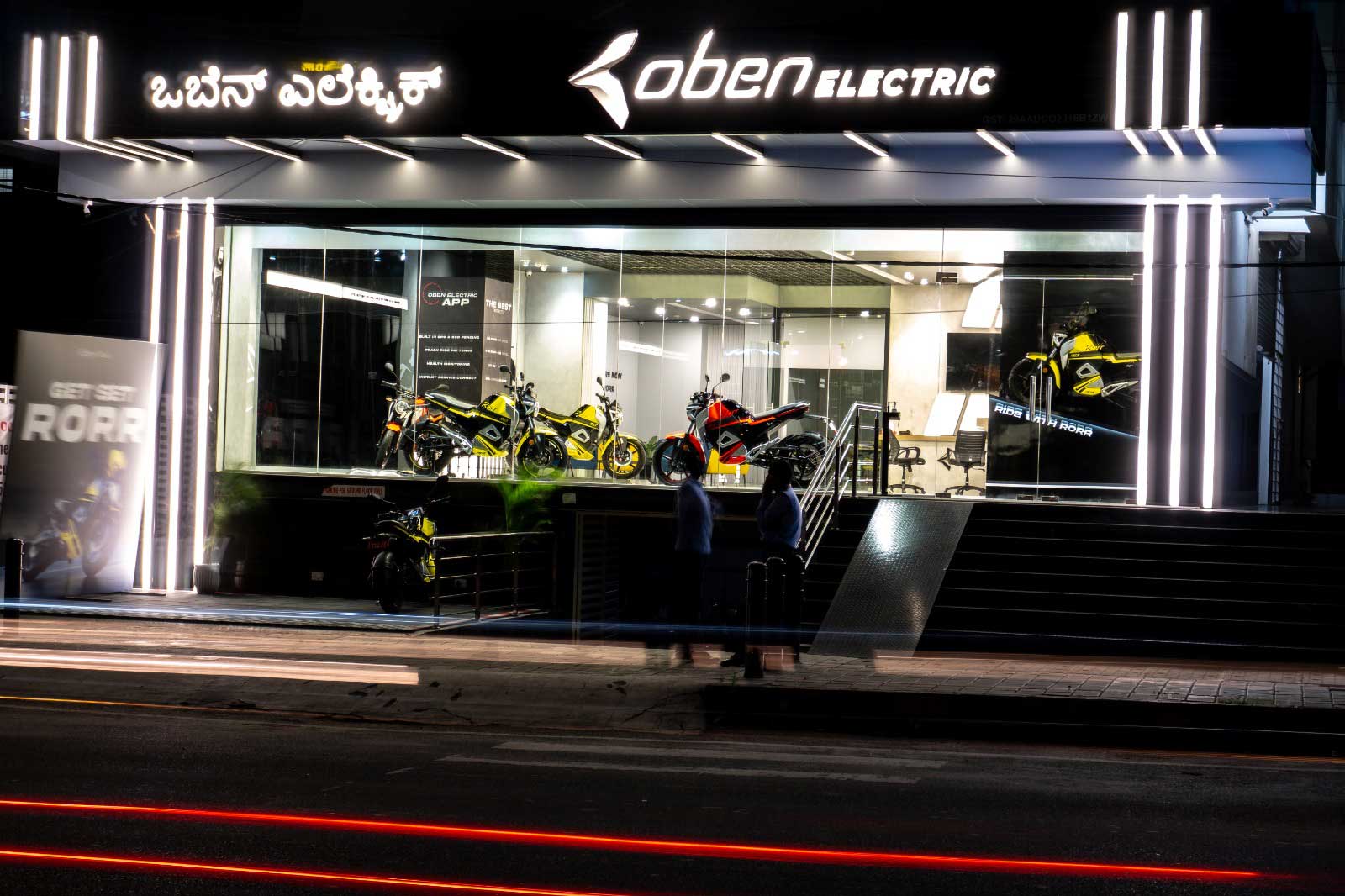 Customer Interaction
The interactivity aspect in the store is spread along two sections - 1. Engagement zones, which are designed to enable conversations 2. Display zones that throw the spotlight on on the products.
Both areas convey the Yin-Yang design principle with differential lighting levels and contrasting materials.FRDC also informs that the special ceiling design in the display area has been built with baffle structure in order to cut glare and create a soft skylight effect.
In Store Communication
Simple and relatable, but impactful- this is how the brand's in store communication can be described, highlighting as it does the brand's technology in an intuitive manner, instead of merely listing out the product specs.
As FRDC says, summing up the store design approach, "The showroom's immersive design and cutting-edge technology mirror Oben's brand values, while offering a platform for enthusiasts to explore, learn, and engage."
Oben Electric plans to expand its franchise-owned experience centers across Bengaluru and all metro cities in India during this fiscal year.