Emami's zyada presence
By Arnab Dutta | August 06, 2013
Emami Ltd relaunched their Fair and Handsome brand with a new and advanced formula offering"œZyada" through its 5 benefits of - Zyada Oil Control, Zyada Sun Protection, Zyada Spot Reduction, Zyada Sweat Control and Zyada Long Lasting Fairness. In order to highlight these at retail, the brand partnered with SAB Creations for the right visibility solutions.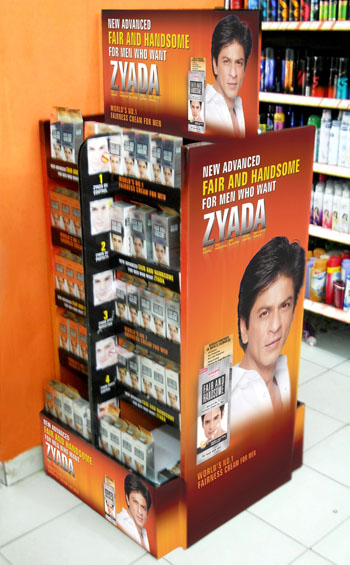 The brief to SAB Creations from Emami was to create visibility solutions that would: Portray this product as the "Worlds No 1 Fairness Cream for Men and highlight the 5 actions along with a unit which could convey a higher value for the brand. Installation of this FSU was done Pan India at stores such as ABRL, BB and Wal-Mart. The fully MDF units were made using Digital Latex Print and dispatched from the brand's factory to the required locations. Execution teams in the respective cities carried out the implementation with ease. Around 80 units were made of size dimension: Length - 24 inches, Depth - 24 inches and Height - 54 inches.
Designing a unit that was masculine in form and highlighted the pack and the 5 actions was the starting point of conceptualization. Several ideas were being incorporated to bring out the brief of the client to perfection. Making this visually attractive and effective for the target market was a challenging as well as an interesting task for the client and the designer.
After a long process of idea generation, the eventual boiling down to the pack idea as side panels and highlighting the five actions, led to the design drawing and technical specifications. A dummy 1-ft prototype was made to explain the detailing and material usage so as to give the client the best in the most cost effective way.
"Fairness being an intensely competitive category, point of purchase is the critical moment of truth for the consumer who has a plethora of choices in Modern Trade. The challenge was to break the clutter and ensure the right visibility for the launch. The brief to the agency was as simple as ensuring that the consumer notices the Advanced Fair And Handsome, which offers "Zyada" through its 5 benefits. Also, for the brand this has been a learning experience considering the scale at which we undertook this activity. Consumer response has been extremely positive for the same," says Mr. N. Krishna Mohan, CEO- Sales, Supply Chain and Human Capital, Emami Limited.
The modern trade branding was conducted across India with leading retailers. Both the regular formats as well as the cash-and-carry formats were covered in the activity done by the brand. In addition to the display units, they had also wanted to be strongly associated with the men's grooming segment and hence extensive category branding was also taken up with "Zyada" visibility being the single point agenda.
In the men's fairness market of Rs 329 cr, Fair and Handsome is reportedly the market leader with 58% market share ( FY 12-13).