Garnier glimmers for instant presence
By Fairy Dharawat | March 18, 2013
The Garnier BB cream unit created by Prologue retail highlighted the brand name by using glowing sign to grab attention from shoppers at retail.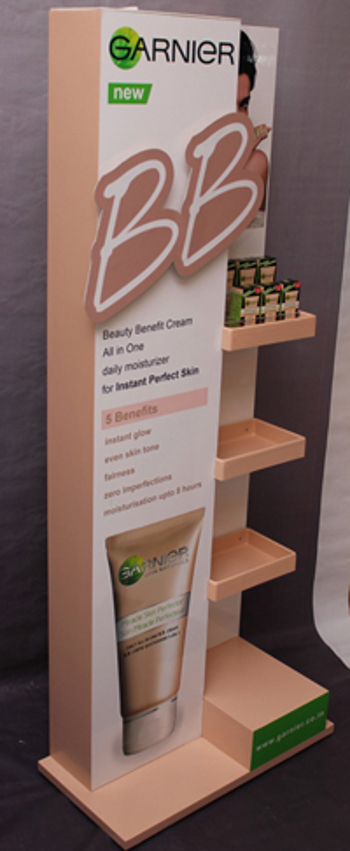 Garnier along with Prologue retail developed a unit which has a glowing brand name in the center to highlight the brands new product'Garnier BB Cream' in retail stores. The unit uses dry battery connected in the middle of the unit to stay glowing for 120 hours at single recharge.
Rajesh Mimani, MD, Prologue Retail, adds that, "The client has appreciated the innovation along with the final product that has reached the market. There has been a lot of curiosity among shoppers which lead to brand awareness and we are elated with the kind of response generated from shoppers".
Materials used for the unit is PU coated MDF, with shelves made in HIP, BB EL and exide batteries while Vinyl prints was used to derive premium look and ensure durability. Garnier BB cream unit has three shelves with ample stocking space which can stock 48 units at one time. On left hand side there are three shelves with brand ambassador Deepika Padukone on top, while the right hand side is dedicated for the communication of Garnier Beauty Benefit Cream. The tag line says, "Garnier Beauty Benefit Cream All in one daily moisturizer for instant perfect skin", while the bottom of the unit lists down five benefits of the cream.
A total of 200 units have been manufactured for Bangalore, New Delhi, Kolkata, Jaipur, Pune and Mumbai. While units for Bangalore, Jaipur & Pune units were manufactured in Mumbai while rest of the units was manufactured locally.