Gin brand Bombay Sapphire crafts a holiday storefront stage for a new creative guard and diverse artistic expression in NYC
By Retail4Growth Bureau | December 22, 2021
Bombay Sapphire has partnered with diverse artistic visionaries - artist Shavante? Royster, fashion designer Romeo Hunte, and New York City dancers to launch its Holiday Storefront Series in support of emerging creatives, local retail and bartending communities.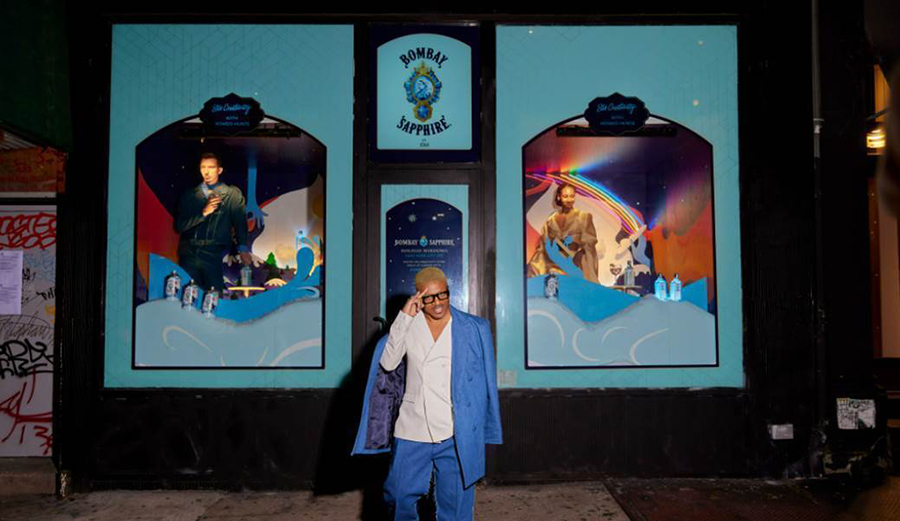 World's leading premium gin brand Bombay Sapphire has unveiled its inaugural holiday window display in New York City, celebrating the new artistic guard and the city's creative comeback. The company's media release states that "though the Bombay Sapphire holiday windows are inspired by the traditional 5th Avenue holiday window displays, these have a deeper purpose: to revitalize downtown Manhattan which was stripped of many anchor businesses and to provide a platform for emerging creatives". This avant-garde Holiday Storefront Series got underway in SoHo in collaboration with visual artist Shavanté Royster, the disruptive fashion designer Romeo Hunte, and New York City dancer Nicole Von Arx".
Over the past year and a half, the pandemic has decimated the livelihood of creatives, small businesses, and retail in New York and beyond. To uplift the artistic community and bring a diverse, vibrant energy to the traditional holiday displays, Bombay Sapphire, which has a longstanding history in championing equal representation in the arts and inspiring creativity, has commissioned these visionaries from diverse fields to transform otherwise empty storefronts into veritable 'windows of art'.
The backdrop of each window features a winter dreamscape by artist Shavanté Royster, which also graces the label of the Bombay Sapphire's new Limited-Edition Gift Pack. This Holiday Storefront Series lights up SoHo during December to mimic the holiday magic of 5th Avenue through the eyes of Shavanté and Romeo, featuring live models clad in Romeo's winter apparel against Shavanté's contemporary picturesque snowy backdrop, along with performances by New York City dancers and local bar-hopping experiences. Romeo Hunte's dedicated window will feature people clad in two bespoke designs that he created exclusively for the space, depicting them getting ready for a holiday show over cocktails. Featuring Romeo's playful sensibility, the garments were inspired by Shavanté's depiction with the colour of the jumpsuit playing off the yellow snowboards, sun and hot air balloons and the billows of the garment responding to the ski slopes. His New York edge is showcased in the jacket and pants look, mashing up tailored, preppy and street styles that tie into Shavanté's Bombay Sapphire-inspired blue colourscape.
"We are thrilled this partnership can ignite inspiration and hero the arts community for the holiday season," says Jaime Keller, Brand Director, Bombay Sapphire North America. "Bombay Sapphire has served as the perfect canvas for creativity, both in cocktails and more broadly. This has been part of our brand DNA for the past three decades, so we are excited to launch this initiative to provide a literal stage for underrepresented and emerging talents and celebrate a creative resurgence overall."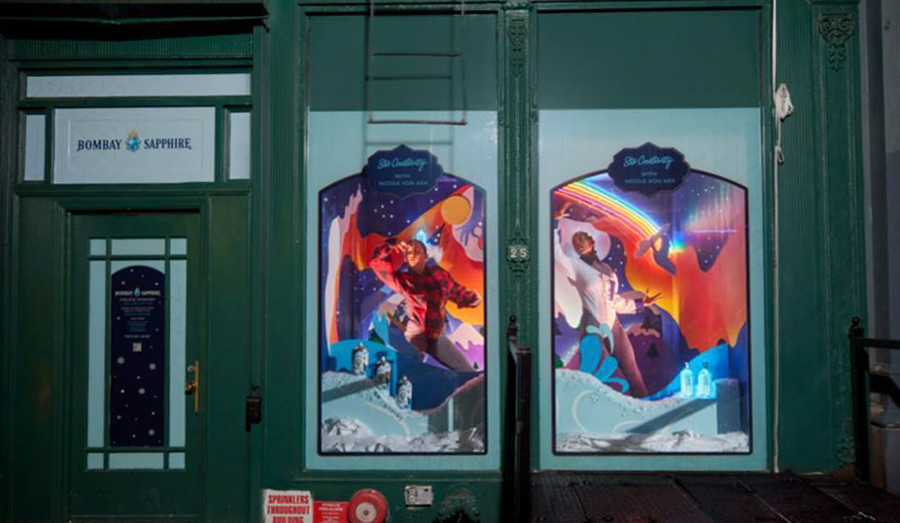 Bombay Sapphire's Holiday Window Curators added: "It's been a joy to work on BOMBAY SAPPHIRE's Holiday Storefront Series which pays homage to exciting young creative talents everywhere and the tenacity of New York City coming back and see the narrative of the holiday windows come to life with them through different facets, such as the dancers wearing some of my designs. I hope everyone can leave the windows feeling a burst of creativity and inspiration for the holidays, and hope for the year ahead!" said Romeo Hunte.
"My design for the Bombay Sapphire limited-edition collectible holiday spray can represents my journey in the world, re-imagining it as this place where I'm creating the atmosphere, weather, rainbows, clouds and stars. I'm so excited to see it brought to life in the Holiday Storefront Series and partnering with other creatives who inspire me. Bombay Sapphire believes and supports up-and-coming artists early in their careers, which is so important for those of us looking to get our work out there. I'm so happy with how this collaboration has progressed. It's a thrill to know that people from all over will be seeing my art come to life this December," said Shavanté Royster.
Designed to be the perfect addition to any holiday bar cart, the bottle turned spray paint can is an unexpected gift that captures winter adventures on the 750ml cans with figures gliding through snowy peaks on snowboards and in hot air balloons in the sky. Born from Shavanté's vivid imagination, the set is available nationwide at ReserveBar.com and at select stores across the country.
Each window brings a different dimension to Shavanté Royster's artistic backdrop, serving as a space for live entertainment and consumer education. These window displays not only spotlight diverse creative artforms, but are designed to bring foot traffic to the respective businesses around downtown New York for the holidays. Lastly, the holiday season wouldn't be complete without a cocktail in hand, so Bombay Sapphire has partnered with neighbouring bars to serve festive holiday cocktails designed by the creatives for window viewers to continue the merriment and celebrate the holidays.