Home Centre – The Vibrant Kitchen
By Satarupa Chakraborty | May 09, 2018
Home Centre's "My Colourful Kitchen" window presents the retailer's entire kitchen offerings in a 3D format along with a cut out of Chef Ranveer Brar, who has been roped in as ambassador of Home Centre's kitchen range. The window has been executed by Bangalore-based Tranz Mannequins.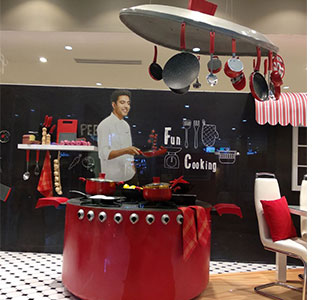 Home Centre's recent window, executed at all 39 outlets, brings the kitchen in focus, to promote the retailer's kitchen category that has been fortified lately and the retailer's association with renowned Chef Ranveer Brar. Elaborating more on the brief and execution of the window scheme, Marthy Bermejo, Deputy General Manager – VM, Home Centre, explained to Retail4growth, "Naming the window, 'My Colourful Kitchen', our idea was to shift our customers' focus on our kitchen segment, a section that has been developed further after our association with Chef Ranveer Brar. We made sure that we showcase almost all our offerings starting from stove to utensils to gadgets to kitchen accessories through a single window. To add drama and variation, the entire window has been executed in 3D format along with an image cut-out of Chef Brar."
The window has been executed across India by Bangalore-based Supra Digital and Tranz Mannequins.